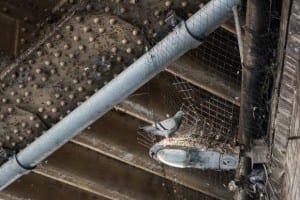 Chinese authorities placed live rabbits, pigeons and chickens near the Tianjin blast site in an effort to calm the public who were worried about the presence of poisonous chemicals in the area. The animals and bird were alive for more than two hours, Reuters reported.
Images of rabbits, pigeons and chickens in brightly-coloured cages are being shared among Chinese citizens as part of the government propaganda to dispel fear of contamination in the region.
Since the massive explosion at the warehouse owned by Ruihai International on 12 August, there has been much concern, especially after it was found that deadly cyanide had leaked into underwater drains. Cyanide was also found in the air.
Also Read: Thousands of Dead Fish Wash Ashore Tianjin Lake Days After Warehouse Blasts
Amid rising fear, another development on Thursday further spread panic among Tianjin residents. Thousands of dead fish washed ashore from a lake located six kilometres from the explosion site.
However, local officials, who are still investigating the "mysterious death of the fish in the Tianjin lake", claimed that it had nothing to do with the explosion.
About Pigeon Patrol:
Pigeon Patrol Products & Services is the leading manufacturer and distributor of bird deterrent (control) products in Canada. Pigeon Patrol products have solved pest bird problems in industrial, commercial, and residential settings since 2000, by using safe and humane bird deterrents with only bird and animal friendly solutions. At Pigeon Patrol, we manufacture and offer a variety of bird deterrents, ranging from Ultra-flex Bird Spikes with UV protection, Bird Netting, 4-S Gel and the best Ultrasonic and audible sound devices on the market today.
Voted Best Canadian wholesaler for Bird Deterrent products four years in a row.
Contact Info: 1- 877– 4– NO-BIRD (www.pigeonpatrol.ca)