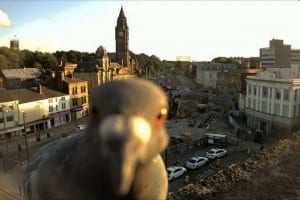 London: Frustrated with increasing bird population in the town. The officials have taken a drastic step to curb the issue by introducing birth control pills to these Pigeons.
A Spanish town is planning to feed its pigeons a special birth control pill in a bid to slash the soaring bird population.
The Catalan town of Badia del Valles will use three automatic dispensers to scatter the required dosage to the pigeon population every morning.
Each pigeon will be fed 10 grammes of Ovistop, a product made of corn seeds covered in Nicarbazin, which acts as a contraceptive for the birds.
The first dispenser was installed on Monday near the town's Civil Guard headquarters, while the other two will be installed on school roofs next week.
The pigeons will be put on the birth control pill from July until December, the high season for pigeon breeding.
One pair of birds can produce 48 pigeons a year, which has led to an overpopulation of the species in the Catalan town.
About Pigeon Patrol:
Pigeon Patrol Products & Services is the leading manufacturer and distributor of bird deterrent (control) products in Canada. Pigeon Patrol products have solved pest bird problems in industrial, commercial, and residential settings since 2000, by using safe and humane bird deterrents with only bird and animal friendly solutions. At Pigeon Patrol, we manufacture and offer a variety of bird deterrents, ranging from Ultra-flex Bird Spikes with UV protection, Bird Netting, 4-S Gel and the best Ultrasonic and audible sound devices on the market today.
Voted Best Canadian wholesaler for Bird Deterrent products four years in a row.
Contact Info: 1- 877– 4– NO-BIRD (www.pigeonpatrol.ca)