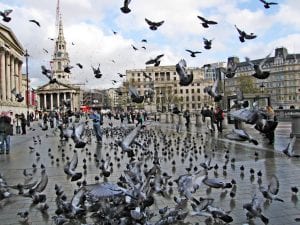 Can pigeons save the world? Probably not, but an innovative pilot project in London is showing how they can help reduce your exposure to air pollution.
The project, called Pigeon Air Patrol, was launched Monday in the British capital. Ten homing pigeons have been outfitted with small, lightweight backpacks containing air-quality sensors and released at various points across the city.
ADVERTISEMENT
On their return flights home, the pigeons transmit real-time data on levels of ozone and nitrogen dioxide, the main urban air pollutants. Londoners can plug in their location at the handle @PigeonAir on Twitter and receive an instant response from one of the pigeons, informing them of the pollutant concentrations they're inhaling.
They can also visit the Pigeon Air Patrol site to view a live map of the birds' flights.
"It's a tool to inform citizens about their exposure to pollution so that they can improve their health and well-being by reducing those exposures," said Romain Lacombe, chief executive of Plume Labs, the Paris company that launched the pigeon project.
"Urban runners, cyclists, people that are sensitive to pollution, parents with young children, and people with asthma can track how pollution will change throughout the day, so they can change their behavior to reduce the impact on their health," he added.
London is one of the most heavily polluted cities in Europe, largely owing to diesel exhaust from vehicles. The foul air is linked to nearly 9,500 premature deaths in the capital. Worldwide, air pollution sends some 7 million people to an early death.
The idea of putting air monitors on pigeons came from Pierre Duquesnoy, creative director at the marketing and technology agency DigitasLBi. He submitted the idea to a competition launched last year by Twitter U.K., in conjunction with the London Design Festival, to find new ways to use the site.
Duquesnoy then partnered with Plume Labs, which helped develop the backpacks over the past two years, with support from Twitter and atmospheric scientists at Imperial College London.
"Over the last 10 years Twitter has been used in ways that we would never have imagined," Helen Lawrence, head of creative agency development at Twitter, said in a statement. "Real time information direct to your mobile is hugely useful, but add pigeons into that mix and you've got something really powerful."
Lacombe said the pigeon project complements Plume Labs' Plume Air Report, which collects pollution data from stationary monitoring sites in about 300 cities in 40 countries and makes them available to residents in real time, as well as offering advice on what to do to avoid overexposure.
"Traditional sensors are very important, but unfortunately they require large investments, and they are not mobile, so you don't capture how pollution changes from one street to the next," Lacombe said. "That makes it quite hard to know what you're being exposed to and what you can do about it."
The London pigeon project will run for only three days, Lacombe said. "We are doing this to raise awareness of the health threats posed by pollution by capturing the imagination of the public, which is hard to do with pollution without strong messages."
Plume Labs wants to put lightweight pollution sensors on people, with the mobile data they collect transmitted via Twitter. The company is using a crowdfunding site to recruit 100 Londoners to test the devices they move around the city over the next few months.
"One of the research teams at Imperial College London specializes in how personal information can help change individual behavior," Lacombe said. "We'll study how having these personal sensors helps reduce exposures and how they can help develop new policies using the data we collect."
The company wants to make the mobile monitoring devices available on the open market. The current sensor, which testers must buy, costs about $113.
As for the pigeons, they might be used in other places to tweet real-time pollution data to people living in large cities.
"It would be quite interesting," Lacombe said. "We don't have plans to do that at the moment, but why not?"
About Pigeon Patrol:
Pigeon Patrol Products & Services is the leading manufacturer and distributor of bird deterrent (control) products in Canada. Pigeon Patrol products have solved pest bird problems in industrial, commercial, and residential settings since 2000, by using safe and humane bird deterrents with only bird and animal friendly solutions. At Pigeon Patrol, we manufacture and offer a variety of bird deterrents, ranging from Ultra-flex Bird Spikes with UV protection, Bird Netting, 4-S Gel and the best Ultrasonic and audible sound devices on the market today.
Voted Best Canadian wholesaler for Bird Deterrent products four years in a row.
Contact Info: 1- 877– 4– NO-BIRD (www.pigeonpatrol.ca)