For those not familiar with the world of pigeon racing, the idea that a bird can be sold at an auction for thousands of dollars might sound almost ludicrous.
But even people within the industry were taken by surprise this week when New Kim, a two-year-old racing pigeon raised in Antwerp, Belgium, was auctioned for a record $1.8 million.
"We did not expect the pigeon (price) would go so high," said Nikolaas Gyselbrecht, the CEO of Pigeon Auction House (PIPA), where New Kim was auctioned.
The price offered for New Kim beats the one paid for the former most expensive pigeon in the world, Armando, sold to a Chinese buyer for $1.48m in 2019.
"We can already say that these record prices are unbelievable because this is a female," said Gyselbrecht. "Armando was a male. Usually a male is worth more than a female because it can produce more offspring, more children. So it's very exceptional to have a female for this price."\
New Kim was bred by Flemish trainer Gaston van de Wouwer, who raised many prize-winning racing pigeons and now, at 76, is retiring and selling all his 400 birds.
The online bidding on New Kim started on November 2 at a bit more than $200 but quickly went up to the thousands as the bidder "Hitman" held off competitors to lead the pigeon. On Tuesday, he stood unchallenged with an offer of $1.5m.
On Sunday, 30 minutes before the end of the auction, a frantic bidding war between Hitman and a bidder named "Super Duper" raised the price for New Kim to $1.8m
Belgium is considered the traditional heartland of pigeon racing, which became very popular in the country in the 19th century.
"There is no country in the world where so many pigeon fanciers live (in) such a high density with each other, like in Belgium," says Gyselbrecht. "So you have 20,000 pigeon fanciers in a very small country competing (with) each other on a very high level. It's like the Champions League."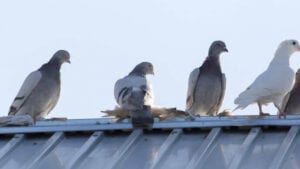 Why are racing pigeons so expensive?
Pigeon racing's popularity has steadily dropped since the 1800s, when it found a fertile ground in Belgium.
After World War I, the sport was a common hobby for the working class, but amid higher costs of living and criticisms by animal welfare activists, pigeon racing became less of a common pastime affordable to many and more of a highly competitive sport practiced by a few.
The rising popularity of the sport in China has led to billionaires investing increasingly high amounts of money in pigeons, and driving up the prize money for races.
The most expensive birds in the history of the sport, mostly Belgian pigeons, were all recently bought by Chinese bidders, as in the case of Armando and New Kim.
Pigeon Patrol Products & Services is the leading manufacturer and distributor or bird deterrent (control) products in Canada. Pigeon Patrol products have solved pest bird problems in industrial, commercial, and residential settings since 2000, by using safe and humane bird 
deterrents with only bird and animal friendly solutions. At Pigeon Patrol, we manufacture and offer a variety of bird deterrents, ranging from Ultra-flex Bird Spikes with UV protection, Bird Netting, 4-S Bird Gel and the best Ultrasonic and audible sound devices on the market today.
Voted Best Canadian wholesaler for Bird Deterrent products ten years in a row. 

Contact us at 1 877-4-NO-BIRD,(604) 585-9279 or visit our website at www.pigeonpatrol.ca

Pigeon/Pigeon Patrol / Pigeons Roosing / Vancouver Pigeon Control / Bird Spikes / Bird Control / Bird Deterrent / PIgeon Deterrent / Surrey Pigeon Control / Pest / Seagull deterrent / Vancouver Pigeon Blog / Birds Inside Home / Pigeons in the cities / Ice Pigeons / What to do about pigeons / sparrows, Damage by Sparrows, How to Keep Raccoons Away, Why Are Raccoons Considered Pests / De-fence / Pigeon Nesting / Bird Droppings / Pigeon Dropping / woodpecker control / Professional Bird Control Company / Keep The Birds Away / Birds/rats/seagull/pigeon/woodpecker/dove/sparrow/pidgeon control/pidgeon problem/pidgeon control/flying rats/pigeon problems/ bird netting/bird gel/bird spray/bird nails/bird guard