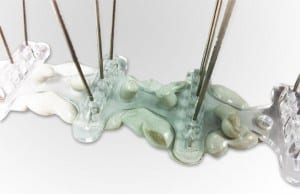 TransportNI plans to install spikes, mesh and possibly take other anti-pigeon measures on Craigavon Bridge in an attempt to solve a bird dropping crisis that has led to the closure of the footpath across the lower deck.
But engineers say the work will only be concentrated on areas of the bridge where the build-up of pigeon droppings has begun to pose a slippery safety risk for walkers and cyclists as it would be impossible to totally pigeon-proof the thoroughfare.
Harry Gallagher, a section engineer at TransportNI, has written to SDLP Councillor Martin Reilly, stating: "Additional measures are being planned at the worst location to help deter pigeon roosting mess at Craigavon Bridge.
"These measures are likely to involve the use of mesh and spikes although I am prepared to consider other means as well.
"Efforts are being concentrated on the worst affected areas as there are so many possible ledges on Craigavon Bridge it does not seem realistic to make it pigeon proof."
Mr Gallagher went on to warn that spikes are not always a panacea for pigeon invasions and backed this up with a picture of pigeons happily ignoring them and roosting at an underpass at Stockman's Lane in Belfast.
"Spikes are very much one of the measures available but I would add a note of caution as to their effectiveness," wrote Mr Gallagher.
Meanwhile, the lower deck pavement remains closed.
"The lower footway on Craigavon Bridge is currently closed to pedestrians.
"Once the new measures have been installed next week the footway below will be cleaned but rather than reopen the footway immediately I would prefer to keep it closed for another week or two so that the effectiveness of the new measures can be observed (by the cleanliness of the footway)," wrote Mr Gallagher.
About Pigeon Patrol:
Pigeon Patrol Products & Services is the leading manufacturer and distributor of bird deterrent (control) products in Canada. Pigeon Patrol products have solved pest bird problems in industrial, commercial, and residential settings since 2000, by using safe and humane bird deterrents with only bird and animal friendly solutions. At Pigeon Patrol, we manufacture and offer a variety of bird deterrents, ranging from Ultra-flex Bird Spikes with UV protection, Bird Netting, 4-S Gel and the best Ultrasonic and audible sound devices on the market today.
Voted Best Canadian wholesaler for Bird Deterrent products four years in a row.
Contact Info: 1- 877– 4– NO-BIRD (www.pigeonpatrol.ca)