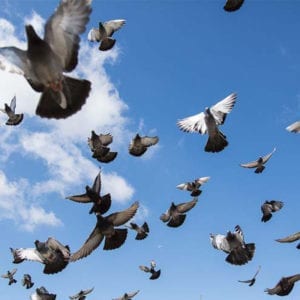 Residents of a road plagued by pigeons are calling for people who feed them to be fined.
Court Road in Sparkhill regularly features hordes of pigeons making a mess on the houses and park, according to those who live there.
Signs tell people not to feed the pigeons – but the advice is ignored on a daily basis, say residents.
Aisha Khan, of Court Road, said the pigeons were "making a mess all around" and were "totally annoying".
Neighbours are calling on Birmingham City Council to introduce a by-law so people who feed the birds can be fined.
The council said there were no plans to introduce by-laws but it was working with the community to promote cleaner streets.
About Pigeon Patrol:
Pigeon Patrol Products & Services is the leading manufacturer and distributor of bird deterrent (control) products in Canada. Pigeon Patrol products have solved pest bird problems in industrial, commercial, and residential settings since 2000, by using safe and humane bird deterrents with only bird and animal friendly solutions. At Pigeon Patrol, we manufacture and offer a variety of bird deterrents, ranging from Ultra-flex Bird Spikes with UV protection, Bird Netting, 4-S Gel and the best Ultrasonic and audible sound devices on the market today.
Voted Best Canadian wholesaler for Bird Deterrent products four years in a row.
Contact Info: 1- 877– 4– NO-BIRD (www.pigeonpatrol.ca)