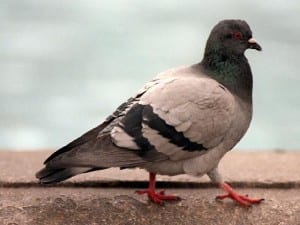 ENGRAVER Vince Ayris has called on the support of a kettle of hawks to deal with Havelock Street's pesky pigeon problem.
The 52-year-old, who owns the firm at the heart of a favourite haunt for the airborne pests, grew so fed up with the pooey white-wash he's asked Phil Voller, of Wings Over Wiltshire, to unleash one of his five birds in the town centre.
"The problem is that people feed them," said Vince. "And of course when you feed birds it has to come out the other end, and they end up pooing all over the place.
"They have the market there and it's not hygienic, but credit to them the council has been out to jet wash the area.
"But the trees in the square are well established and of course that's the pigeons' homes.
"They have even started walking into the shop."
Phil, who works for pest control company Prokill, owns five hawks which he has unleashed in Regent Circus to bring the numbers down there, and now Vince is urging him to come to the town centre proper to tidy up the area.
"It looks horrible," said Vince. "All the birds are horrid too, they've all got broken feet and are in quite a sorry state.
"It's much better in my opinion to use hawks rather than a gun because it's more natural. I'm not into hunting or guns of any kind.
"I'm an animal lover so natural is best.
"You don't want to be there when it happens though. It is a bit messy."
It isn't the first time the critters have faced death by hunting after Swindon Borough Council listed the help of the bids of prey to encourage them to abandon their nests around the central library.
In 2012 two Harris hawks, Nessa and Duke, from specialist firm Prokill, descended on the town as part of a four-month bid to rid the area of vermin.
But the council said they had no plans to use the birds in the town centre because of the risk they could also pose to innocent pedestrians.
A spokesman from Swindon Borough Council said: "Pigeons can be a problem in any town centre. Swindon is no different, and we try to keep on top of the problem by using a high-pressure washer on what they leave behind.
"They congregate in areas where they think they will find something to eat, which can often be places where people stop and eat food. The problem wouldn't be as bad if everyone put what they don't eat in the bin, but often they don't, and we'd certainly not encourage anyone to throw their last bit of pasty crust to the nearest hungry-looking bird.
"We use hawks from a pest control company to discourage pigeons from nesting on the roof of the town hall and library, but that's a different problem, and we can do it without affecting members of the public who are walking nearby. It would be more difficult to do that in a pedestrianized area, and not everyone wants to see a pigeon being despatched by a large bird of prey while they are out shopping, which would always be a risk."
About Pigeon Patrol:
Pigeon Patrol Products & Services is the leading manufacturer and distributor of bird deterrent (control) products in Canada. Pigeon Patrol products have solved pest bird problems in industrial, commercial, and residential settings since 2000, by using safe and humane bird deterrents with only bird and animal friendly solutions. At Pigeon Patrol, we manufacture and offer a variety of bird deterrents, ranging from Ultra-flex Bird Spikes with UV protection, Bird Netting, 4-S Gel and the best Ultrasonic and audible sound devices on the market today.
Voted Best Canadian wholesaler for Bird Deterrent products four years in a row.
Contact Info: 1- 877– 4– NO-BIRD (www.pigeonpatrol.ca)