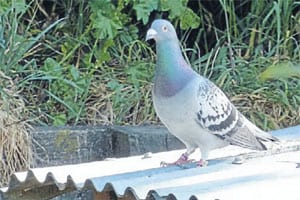 TORONTO, ON–(Marketwired – October 21, 2014) – The Scarborough Civic Centre, unique for its juxtaposition of two triangular shaped, multiple split level towers, which surround an open central area in the interior, was designed by architect Raymond Moriyama and officially opened in 1973 by Queen Elizabeth. Today, the five-story east tower holds municipal offices for Toronto's East District, while the four-story west tower now houses offices of the Toronto District School Board.
Sadly, like most buildings where glass is showcased, the Centre has experienced a very high level of bird collisions with its windows. When a new library wing addition with a myriad of glass surfaces was planned at the Centre, an effort was led to solve the problem by Councillor Glenn De Baeremaeker. Councillor De Baeremaeker first had the Fatal Light Awareness Program (FLAP) Canada conduct a BirdSafe® risk assessment of the building to help identify the most lethal facades for bird-window collisions. City funding was then allotted to support a retrofit solution that conformed with Bird Friendly Development Guidelines outlined in Toronto's Green Development Standard (2007); city-wide legislation that Councillor De Baeremaeker was also instrumental in introducing.
The application of Feather Friendly Technologies® window film by Convenience Group Inc. to nearby Consilium Place and now to the Scarborough Civic Centre is resulting in a substantial reduction of bird collisions at both complexes. Light gray dots applied with the desirable 2″x 2″ spacing to the exterior surface of glass is the configuration which has proven to be effective.
Architectural design contributors to the project were Jane Burgess and Ashley Stewart of Stevens Burgess Architects Ltd. (SBA), an award winning multi-disciplinary architectural firm providing value-added expertise in conservation, interior sustainable design and urban design. The project was managed by Colonial Building Restoration.
Convenience Group Inc. has provided Window Film Solutions to a wide range of commercial and residential customers in the Greater Toronto Area for over 40 years. As a master distributor, and authorized dealer of 3M window film, Convenience Group is able to offer leading-edge products, highly experienced consulting, superior design and expert installation. The company specializes in working with interior designers and architects who use Decorative Film and Architectural Finishes as part of their designs. For more information about Feather Friendly® Bird Collision Deterrent Technology visit www.featherfriendly.com Convenience Group can also provide true multi-location project management across Canada through their national dealer network Window Film Canada www.windowfilmcanada.ca. Visit CGI at www.conveniencegroup.com or contact 1-888-835-5885.
About Pigeon Patrol:
Pigeon Patrol Products & Services is the leading manufacturer and distributor of bird deterrent (control) products in Canada. Pigeon Patrol products have solved pest bird problems in industrial, commercial, and residential settings since 2000, by using safe and humane bird deterrents with only bird and animal friendly solutions. At Pigeon Patrol, we manufacture and offer a variety of bird deterrents, ranging from Ultra-flex Bird Spikes with UV protection, Bird Netting, 4-S Gel and the best Ultrasonic and audible sound devices on the market today.
Voted Best Canadian wholesaler for Bird Deterrent products four years in a row.
Contact Info: 1- 877– 4– NO-BIRD (www.pigeonpatrol.ca)