Breakfast reporter Wilson Longhurst tried his best to report the unusual story of a pigeon arrested in India on suspicion of spying, but he couldn't quite hold it together today.
The Times of India reports the bird was captured around the time of the Eid festival by villagers along the border of Pakistan and India in Jammu and Kashmir.
They handed the bird, which had been painted pink and carried a numbered band around its leg, to police, on suspicion of spying.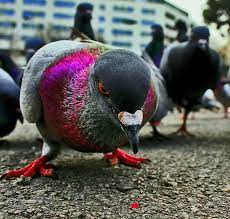 Police were concerned that the numbers could be a "coded message", officials told the Times of India, and an investigation was launched.
As Longhurst reported the story on Breakfast, he did his best to remain solemn, but lost it as he reported that the owner of the pigeon in neighbouring Pakistan has appealed for the bird's release, saying the number on it's leg is simply his phone number.
The villager told Pakistan's Dawn newspaper that he owns more than a dozen pigeons, that they are a "symbol of peace" and that India should "refrain from victimising innocent birds".
And it's not the first time – Indian authorities caught a bird in 2015 that was found to have a message written on its wings in Urdu, and in 2016 a bird was found carrying a note allegedly threatening Indian Prime Minister Narendra Modi.
Pigeon Patrol Products & Services is the leading manufacturer and distributor of bird deterrent (control) products in Canada. Pigeon Patrol products have solved pest bird problems in industrial, commercial, and residential settings since 2000, by using safe and humane bird deterrents with only bird and animal friendly solutions. At Pigeon Patrol, we manufacture and offer a variety of bird deterrents, ranging from Ultra-flex Bird Spikes with UV protection, Bird Netting, 4-S Bird Gel and the best Ultrasonic and audible sound devices on the market today.
Voted Best Canadian wholesaler for Bird Deterrent products ten years in a row.
Contact us at 1- 877– 4– NO-BIRD, (604) 585-9279 or visit our website at www.pigeonpatrol.ca
Pigeon/Pigeon Patrol / Pigeons Roosting / Vancouver Pigeon Control /Bird Spikes / Bird Control / Bird Deterrent / Pigeon Deterrent?  Surrey Pigeon Control / Pest /Seagull deterrent / Vancouver Pigeon Blog / Birds Inside Home / Pigeons in the cities / Ice Pigeons/ What to do about pigeons/ sparrows , Damage by Sparrows, How To Keep Raccoons Away,  Why Are Raccoons Considered Pests/ De-fence / Pigeon Nesting/ Bird Droppings / Pigeon Dropping/ woodpecker control/ Professional Bird Control Company/ Keep The Birds Away/ Birds/rats/ seagull/pigeon/woodpecker/ dove/sparrow/pidgeon control/pidgeon problem/ pidgeon control/flying rats/ pigeon Problems/ bird netting/bird gel/bird spray/bird nails/ bird guard