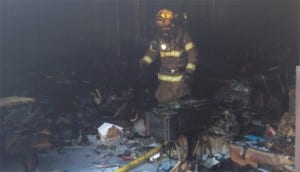 Reigate firefighters flew into action in the town centre to rescue a pigeon caught up in rooftop netting.
The four-man crew, led by Crew Commander Steve Arnold, closed the High Street temporarily in order to get a ladder up to the roof of Boots opticians, where the bird had got stuck in netting placed there to prevent pigeons getting into the roof spaces, last Wednesday afternoon (June 25).
The fire service was called in by the RSPCA.
A Surrey Fire and Rescue Service spokesman said: "Animal welfares is just one of the many roles that the Surrey Fire and Rescue Service responds to, though full risk assessments are made and our role is to assist and support the RSPCA in such events."
He said: "After cordoning the area off for safety, the crew pitched a 13.5-metre ladder and after several attempts, released the pigeon successfully."
He said along with Crew Commander Arnold, the efforts of firefighters Horsfall, Smith and Sharpe were all cheered.
"The pigeon was seen by many onlookers, who cheered in appreciation as it flew away, relatively unharmed," he said.
The rescue was one of the last call-outs for Crew Commander Arnold, who was taking early retirement last week after a 25-year career in the fire service.
About Pigeon Patrol:
Pigeon Patrol Products & Services is the leading manufacturer and distributor of bird deterrent (control) products in Canada. Pigeon Patrol products have solved pest bird problems in industrial, commercial, and residential settings since 2000, by using safe and humane bird deterrents with only bird and animal friendly solutions. At Pigeon Patrol, we manufacture and offer a variety of bird deterrents, ranging from Ultra-flex Bird Spikes with UV protection, Bird Netting, 4-S Gel and the best Ultrasonic and audible sound devices on the market today.
Voted Best Canadian wholesaler for Bird Deterrent products four years in a row.
Contact Info: 1- 877– 4– NO-BIRD (www.pigeonpatrol.ca)