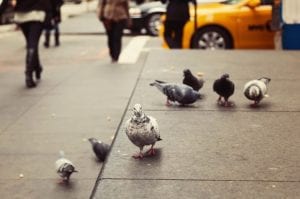 FEEDING the birds could cost a lot more than tuppence a bag under new rules to make Northwich a cleaner and safer place to work and visit.
Anyone caught giving food to pigeons in the town centre will be fined £75 in a bid to reduce the number of the birds in the shopping area.
Northwich Business Improvement District (BID) has worked with the regulatory authorities at Cheshire West and Chester Council and Streetscene on the new legislation.
Mark Henshaw, Northwich BID officer, said: "The Northwich BID team is constantly looking at ways to make the town an even better place to visit and after a series of complaints about pigeons we knew we needed to act.
"These posters will hopefully discourage people from feeding the birds; a cleaner, safer and more prosperous Northwich is beneficial to everyone."
The BID is installing 50 enforceable signs in and around the town centre on bins and shop frontages.
The signs are designed to stop people from feeding the pigeons, outlining that individuals could be fined £75 on the spot if they are found guilty of giving food to the birds.
This will be enforced by community wardens who will be monitoring the situation for two hours a day between Monday and Saturday.
The measures follow numerous complaints from shoppers and traders about the growing number of pigeons in the town centre.
Concerns about the issue have also been raised with Northwich Town Council.
Mark said he hoped the signs would deter people from feeding the pigeons and cause the pigeon population would decrease.
About Pigeon Patrol:
Pigeon Patrol Products & Services is the leading manufacturer and distributor of bird deterrent (control) products in Canada. Pigeon Patrol products have solved pest bird problems in industrial, commercial, and residential settings since 2000, by using safe and humane bird deterrents with only bird and animal friendly solutions. At Pigeon Patrol, we manufacture and offer a variety of bird deterrents, ranging from Ultra-flex Bird Spikes with UV protection, Bird Netting, 4-S Gel and the best Ultrasonic and audible sound devices on the market today.
Voted Best Canadian wholesaler for Bird Deterrent products four years in a row.
Contact Info: 1- 877– 4– NO-BIRD (www.pigeonpatrol.ca)