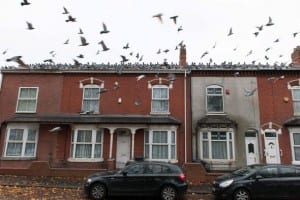 A cannabis farm was discovered thanks to the help of pigeons seeking out some comfort.
On the first freezing day of winter, hundreds of them huddled together on the roof in Earlestown, St Helens, Merseyside.
Police were intrigued as to what had prompted them to gather in such a way and upon their investigation they discovered the crop.
Heat lamps had warmed the roof, providing them with a haven from the cold.
Officers discovered 14 mature cannabis plants capable of producing up to £1,200 of weed every 10 weeks, according to the St Helens Star.
A source said: 'Police became suspicious on the first frosty morning of the winter about 10 days ago.
'The roof was covered with about 300 pigeons all keeping warm….they've moved on now though.'
About Pigeon Patrol:
Pigeon Patrol Products & Services is the leading manufacturer and distributor of bird deterrent (control) products in Canada. Pigeon Patrol products have solved pest bird problems in industrial, commercial, and residential settings since 2000, by using safe and humane bird deterrents with only bird and animal friendly solutions. At Pigeon Patrol, we manufacture and offer a variety of bird deterrents, ranging from Ultra-flex Bird Spikes with UV protection, Bird Netting, 4-S Gel and the best Ultrasonic and audible sound devices on the market today.
Voted Best Canadian wholesaler for Bird Deterrent products four years in a row.
Contact Info: 1- 877– 4– NO-BIRD (www.pigeonpatrol.ca)