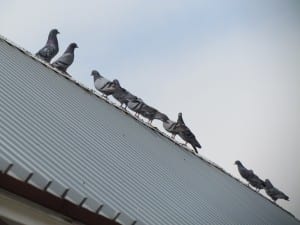 A warehouseman died from lung cancer caused by birds pecking the asbestos roof of a store where he used to work, an inquest heard.
For 12 years the deadly dust floated down on Anthony Jones, who got a job at the cash and carry when he was 15 but left three decades ago.
He was killed this year, aged 57, by mesothelioma – a type of lung cancer whose only known cause is asbestos fibres.
Mr Jones had said after being told he had terminal cancer: "I can't recall ever working with or near asbestos.
"My exposure was most likely at the firm's ex-premises in Gloucester, as I was told there was always a problem with birds pecking the asbestos-based roof."
GNSThe cash'n carry warehouse where Anthony Jones workedDeadly: The cash and carry warehouse where Anthony Jones worked
Fibres: Pigeons pecking the asbestos roof were a constant problem
Daily Mirror Campaign Asbestos time bomb logoCall for action: The Daily Mirror has been running the Asbestos Timebomb campaign
A post-mortem on the bachelor, of Frampton on Severn, found 19,355 asbestos fibres per gram of dry lung tissue, a level consistent with work exposure.
Coroner Katy Skerrett recorded a verdict of death due to industrial disease and said: "It's not the type of employment where you'd expect to be exposed to asbestos."
The victim's sister Margaret Ball, 72, said after the Gloucester inquest: "This dust was floating down on him all that time at work and seems that is why he got this terrible disease years later."
About Pigeon Patrol:
Pigeon Patrol Products & Services is the leading manufacturer and distributor of bird deterrent (control) products in Canada. Pigeon Patrol products have solved pest bird problems in industrial, commercial, and residential settings since 2000, by using safe and humane bird deterrents with only bird and animal friendly solutions. At Pigeon Patrol, we manufacture and offer a variety of bird deterrents, ranging from Ultra-flex Bird Spikes with UV protection, Bird Netting, 4-S Gel and the best Ultrasonic and audible sound devices on the market today.
Voted Best Canadian wholesaler for Bird Deterrent products four years in a row.
Contact Info: 1- 877– 4– NO-BIRD (www.pigeonpatrol.ca)