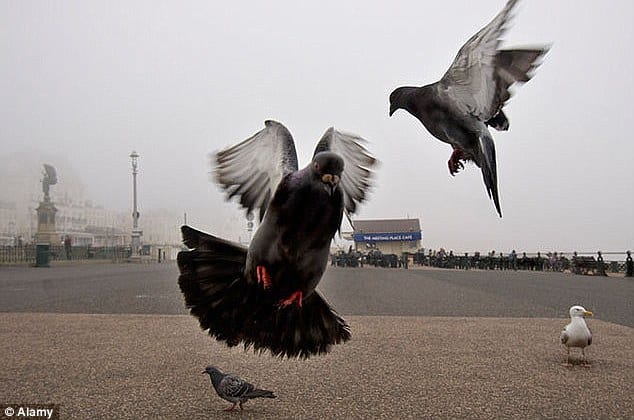 Morning walkers at Nehru Rose Garden were in for a shock on Friday morning when they saw carcasses of numerous pigeons scattered all around.
While the exact number of dead pigeons is not known, eyewitnesses estimated that around 50-60 pigeons were lying dead in the garden. What surprised people was that there was no bleeding or injury marks.
However, since the city witnessed a powerful thunderstorm and hailstorm on late Thursday night, it is also being cited as the reason for mass deaths. Parmeet Sethi, a resident who witnessed the site in the morning, said, "There were no naked wires or any electricity pole where birds were lying dead. Maybe lightning fell on them but that is only a suspicion. The exact reason must be known through proper post-mortem."
Residents suspected that birds might have fallen prey to poisonous grains or food served by people in the Rose Garden. "People come here daily to offer grains to pigeons. Maybe they ate something poisonous," said Pravin Kumar, a resident.
The Ludhiana Municipal Corporation was not aware of the deaths initially. Sumit Jarangal, additional commissioner and in-charge of Rose Garden and horticulture department, said, "I will get the dead bodies cleared from the garden and also find out the reason behind the tragedy."  Later, Jarangal said that "pigeons died because of short circuit", but failed to explain the source of short circuit. Sandeep Jain, co-opted member of Animal Welfare Board of India, also contacted Jarangal and demanded post-mortem of the pigeons to know the exact reason.
Isha Kalia, additional commissioner, confirmed to Newsline that a post-mortem had been ordered. "Health wing incharge A S Sekhon and animal husbandry department have been given responsibility to get the post-mortem done," she said.  The Rose Garden presents an utter dismal picture. While once it had a full-fledged zoo with monkeys, deer, ducks and rabbits, now it houses nothing except pigeons.
About Pigeon Patrol:
Pigeon Patrol Products & Services is the leading manufacturer and distributor of bird deterrent (control) products in Canada. Pigeon Patrol products have solved pest bird problems in industrial, commercial, and residential settings since 2000, by using safe and humane bird deterrents with only bird and animal friendly solutions. At Pigeon Patrol, we manufacture and offer a variety of bird deterrents, ranging from Ultra-flex Bird Spikes with UV protection, Bird Netting, 4-S Gel and the best Ultrasonic and audible sound devices on the market today.
Voted Best Canadian wholesaler for Bird Deterrent products four years in a row.
Contact Info: 1- 877– 4– NO-BIRD (www.pigeonpatrol.ca)