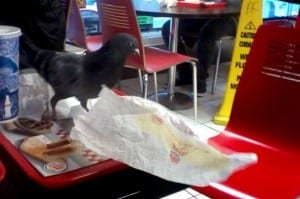 Pigeon Patrol ran across this funny story!
JANICE McGill tells of 'disgusting' experience at burger joint in Glasgow's Queen Street.
A RETIRED nurse told yesterday how she was left in a flap – after dining with a pair of pigeons in a Burger King.                               Janice McGill, 52, was enjoying a day out in Glasgow with her cousin last week when they decided to eat in the Queen Street outlet. Janice, from Irvine, said: "There were trays and food all over the place. It was disgusting. There were two pigeons walking about on the tables and the floor, rummaging through the food wrappers."
A Burger King spokesman said: "We take this incident extremely seriously as customer experience and satisfaction are of paramount importance to Burger King."
Pigeon Patrol could have helped this store by supplying them with the Ultra-Flex bird or pigeon spikes or the best Ultrasonic sound unit on the market today. TubeSonic.