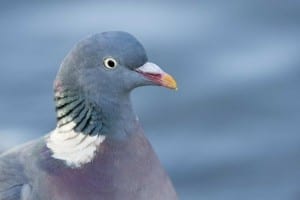 Tram commuters say that a pigeon 'infestation' is causing problems at Prestwich tram stop.
The birds have nested at the Metrolink station and surrounding area for several years, but fresh concerns have arisen that their droppings are a health risk and damaging buildings.
Transport bosses installed pigeon netting at Prestwich in 2011 and say that cleaners still sweep the station daily, but passengers and local councillors have called for more action against the 'rats with wings'.
Tram traveller Billy McCulloch complained to Metrolink for a third time about the issue this week. He asked: "Have reported pigeon infestation three times now at Prestwich, do you know if anything is being done?"
Mr McCulloch also flagged up the problem on Twitter on May 6 and on April 30. Fellow traveller Keith Marks tweeted: "Not sure how but pigeons are now nesting behind the anti-pigeon wire at Prestwich".
Pigeons at Prestwich Metrolink station
Metrolink say they are not aware of any 'infestation' but have asked people not to feed the birds.
Councillor Tim Pickstone, who represents the area and blogged about the problem last year, told the M.E.N: "Both the bridges under the Metrolink at Prestwich are busy thoroughfares and pigeons are causing significant nuisance for both pedestrians and cyclists.
"It is important the Metrolink keep on top of the netting. In recent months, we've seen situations where birds have been trapped due to poorly maintained netting, now they're even nesting behind it!"
Councillor Alan Quinn added: "When I've raised the problem of pigeons with Metrolink, they've acted quickly. For example they've put nets and spikes on most of the bridges in Prestwich that the trams use.
"The problem is made worse by the fact that people keep feeding the pigeons. Food is left regularly in Heaton Park and in areas of Prestwich.
"You'd wouldn't put food out for rats and pigeons do carry disease that can affect humans, so why people feed these 'rats with wings' is beyond me. The droppings left are a health risk and can damage buildings."
A TfGM spokesperson said: "The Metrolink operator employs contractors to not only control rodents and pests at stops but also to carry out a daily brush and mopping of stop and bridge areas.
"They also install pigeon deterrent measures from time to time in certain locations and Prestwich is one such area. However, we are not aware of any infestation problem.
"To help us maintain clean and pleasant facilities, we would ask customers not to feed any pigeons and avoid eating or discarding convenience foods on stop platforms."
The M.E.N reported as early as 2011 how pigeons were causing a nuisance on the Bury Metrolink line, with prevention measures installed at several stations.
About Pigeon Patrol:
Pigeon Patrol Products & Services is the leading manufacturer and distributor of bird deterrent (control) products in Canada. Pigeon Patrol products have solved pest bird problems in industrial, commercial, and residential settings since 2000, by using safe and humane bird deterrents with only bird and animal friendly solutions. At Pigeon Patrol, we manufacture and offer a variety of bird deterrents, ranging from Ultra-flex Bird Spikes with UV protection, Bird Netting, 4-S Gel and the best Ultrasonic and audible sound devices on the market today.
Voted Best Canadian wholesaler for Bird Deterrent products four years in a row.
Contact Info: 1- 877– 4– NO-BIRD (www.pigeonpatrol.ca)