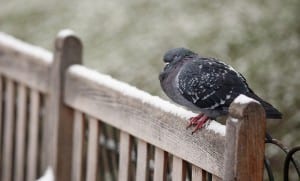 Pigeon 'stools' on the Craigavon Bridge are imperilling pedallers and pedestrians alike with one Waterside Councillor calling for netting to be erected to help address the problem.
Waterside SDLP Councillor Martin Reilly said the problem of 'unpleasant and unsafe' pigeon deposits, which are causing distress to cyclists and pedestrians in the area, needs to be tackled immediately.
"I have been contacted by people who use the cycle path along the lower deck of the Craigavon Bridge who are annoyed at the gathering of pigeon mess which makes cycling and walking in this area unpleasant and unsafe," he said.
He explained that the section of the crossing is not wide enough for Council vehicles to access.
"Unfortunately this part of the bridge is too narrow for Council cleansing vehicles – and in the past Council worked with Transport NI and Sustrans to close this stretch to carry out the necessary cleaning works. While this cleaning work is welcome the effects do not last long and a more permanent solution is required," he added.
Whilst bird droppings are found throughout the city a pigeon hang-out close to the steps near the Waterside end of the bridge is where the problem is most pronounced. Layers of pigeon droppings millimetres thick have been allowed to accumulate and when slick with rain it poses a serious hazard for walkers and cyclists.
The ordure is creating serious disorder.
Mr Reilly said: "Transport NI previously suggested installing netting in this area to prevent pigeons from roosting. I am therefore calling on these statutory agencies to work together to find an adequate solution which would encourage further use of this key walkway and cycle route."
About Pigeon Patrol:
Pigeon Patrol Products & Services is the leading manufacturer and distributor of bird deterrent (control) products in Canada. Pigeon Patrol products have solved pest bird problems in industrial, commercial, and residential settings since 2000, by using safe and humane bird deterrents with only bird and animal friendly solutions. At Pigeon Patrol, we manufacture and offer a variety of bird deterrents, ranging from Ultra-flex Bird Spikes with UV protection, Bird Netting, 4-S Gel and the best Ultrasonic and audible sound devices on the market today.
Voted Best Canadian wholesaler for Bird Deterrent products four years in a row.
Contact Info: 1- 877– 4– NO-BIRD (www.pigeonpatrol.ca)