Customs officials in Kuwait have apprehended a pigeon carrying drugs in a miniature backpack, Kuwaiti newspaper al-Rai reports.
A total of 178 pills were found in the fabric pocket attached to its back, the newspaper says.
The bird was caught near the customs building in Abdali, close to the border with Iraq.
An al-Rai journalist said the drugs were a form of ketamine, an anaesthetic also used as an illegal party drug.
Abdullah Fahmi told the BBC that customs officials already knew pigeons were being used to smuggle drugs, but this was the first time they had caught a bird in the act.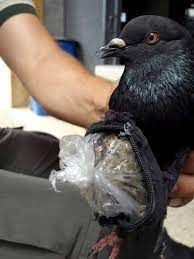 Law enforcement officials elsewhere have, however, identified previous cases where pigeons have been used to carry lightweight high-value narcotics.
In 2015, prison guards in Costa Rica caught a pigeon carrying cocaine and cannabis in a zipped pouch.
And in 2011, Colombian police discovered a pigeon that was unable to fly over a high prison wall because of the weight of a package of cocaine and marijuana strapped to it.
Pigeons have been used to carry messages since Roman times, using their powerful "homing" ability.
Racing pigeons can return to their lofts from distances of hundreds of kilometres.
Pigeon Patrol Products & Services is the leading manufacturer and distributor of bird deterrent (control) products in Canada. Pigeon Patrol products have solved pest bird problems in industrial, commercial, and residential settings since 2000, by using safe and humane bird deterrents with only bird and animal friendly solutions. At Pigeon Patrol, we manufacture and offer a variety of bird deterrents, ranging from Ultra-flex Bird Spikes with UV protection, Bird Netting, 4-S Bird Gel and the best Ultrasonic and audible sound devices on the market today.
Voted Best Canadian wholesaler for Bird Deterrent products ten years in a row.
Contact us at 1- 877– 4– NO-BIRD, (604) 585-9279 or visit our website at www.pigeonpatrol.ca
Pigeon/Pigeon Patrol / Pigeons Roosting / Vancouver Pigeon Control /Bird Spikes / Bird Control / Bird Deterrent / Pigeon Deterrent?  Surrey Pigeon Control / Pest /Seagull deterrent / Vancouver Pigeon Blog / Birds Inside Home / Pigeons in the cities / Ice Pigeons/ What to do about pigeons/ sparrows , Damage by Sparrows, How To Keep Raccoons Away,  Why Are Raccoons Considered Pests/ De-fence / Pigeon Nesting/ Bird Droppings / Pigeon Dropping/ woodpecker control/ Professional Bird Control Company/ Keep The Birds Away/ Birds/rats/ seagull/pigeon/woodpecker/ dove/sparrow/pidgeon control/pidgeon problem/ pidgeon control/flying rats/ pigeon Problems/ bird netting/bird gel/bird spray/bird nails/ bird guard