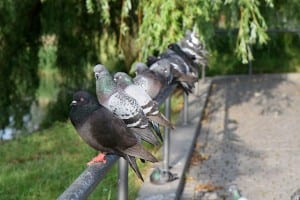 SEOUL, Sept. 5 (Korea Bizwire) – Piano wire, made for use in piano strings, has found a new, unexpected use in chasing pigeons away so that buildings and structures could avoid premature corrosion as well as bad odor and noise. The Seoul metropolitan city government said on September 4 that it has come up with a novel solution to keep birds away using piano wire by experimentally installing the line on Seongsan No. 1 Bridge and the Seoul Station Overpass.
The solution is based on a simple idea that the birds wouldn't be able to land on the extremely thin line and would fly away after trying many times. Until now, most bridges and elevated roads have been infested with pigeons, causing bad smell, often unbearable noise, and urban squalor. In some problem spots, the city government tried to install bird blocking nets but found it ineffective as most pigeon habitats were narrow holes or small cracks.
The idea of using piano wire came when a bike rider passing underneath Seongsan No. 1 Bridge petitioned the city government to do something about the pigeon problem and a city officer named Lee Jong-wook at the West Seoul Road Maintenance Corp. under the city government invented the idea after weeks of experiment. He applied for a patent for the idea with the Korea Intellectual Property Office.
Pigeon droppings may cause corrosion of steel parts in the structure as they contain ammonia and acid when they are mixed with rainwater. The droppings are major nuisance to pedestrians walking under bridges and overpasses. The piano wire-based bird chasing device is more cost effective than any other solutions such as the spike needle, bird blocking net, chemical-based bird repellent and ultrasonic bird repeller, which are expensive and often limited in applicable range.
Its installation is also simple, with no need to replace often through the tightness adjustment lever and elastic spring that tightens the line even when the temperature is high. As the wire is made from tempered high-carbon steel, it is durable and can maintain elasticity for a long time.
Lee of the West Seoul Road Maintenance Corp. said, "I thought hard and long about how to address the problem and came up with the idea of piano wire. When I developed the idea, it was winter time, which made it hard to apply any other easily available solutions. I am glad that my simple idea could relieve the problem and make our citizens happy."
 About Pigeon Patrol:
Pigeon Patrol Products & Services is the leading manufacturer and distributor of bird deterrent (control) products in Canada. Pigeon Patrol products have solved pest bird problems in industrial, commercial, and residential settings since 2000, by using safe and humane bird deterrents with only bird and animal friendly solutions. At Pigeon Patrol, we manufacture and offer a variety of bird deterrents, ranging from Ultra-flex Bird Spikes with UV protection, Bird Netting, 4-S Gel and the best Ultrasonic and audible sound devices on the market today.
Voted Best Canadian wholesaler for Bird Deterrent products four years in a row.
Contact Info: 1- 877– 4– NO-BIRD (www.pigeonpatrol.ca)