A raving lunatic beheaded two pigeons in Bryant Park, proclaimed he was a "vampire" — and guzzled their blood in front of a horrified crowd, witnesses told The Post.
"He was holding up the pigeons and drinking their blood, letting the blood drip down his shirt," recalled shocked onlooker Dominic D.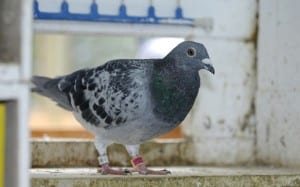 "He did it twice," the 32-year-old said. "He was covered in blood. He said he was a vampire. It was pretty disgusting."
Witnesses told The Post that the man threw one of the dead bird heads and splattered blood all over the shirt of a person who was eating lunch. He then calmly waited for cops to arrive.
"He was very calm when the police came," explained Clarissa Plair, a 26-year-old Theology student who spends a lot of time in Bryant Park and has seen the pigeon perp before.
"He's always here, yelling at people on the street," she said. "He was telling [police] he's a vampire."
Authorities took a man into custody about 15 minutes later and transported him to St. Luke's-Roosevelt Hospital for a pysch evaluation, according to officials.
Photos and video posted on Twitter showed the bloody aftermath, with several pigeons swooping in to mourn their fallen bird brethren.
While the man behind the fowl fatalities is known to sit in the Bryant Park fountain drinking beer, witnesses said he's never gone after any of his feathered friends before.
Pigeon Patrol Products & Services is the leading manufacturer and distributor or bird deterrent (control) products in Canada. Pigeon Patrol products have solved pest bird problems in industrial, commercial, and residential settings since 2000, by using safe and humane bird 
deterrents with only bird and animal friendly solutions. At Pigeon Patrol, we manufacture and offer a variety of bird deterrents, ranging from Ultra-flex Bird Spikes with UV protection, Bird Netting, 4-S Bird Gel and the best Ultrasonic and audible sound devices on the market today.
Voted Best Canadian wholesaler for Bird Deterrent products ten years in a row. 

Contact us at 1 877-4-NO-BIRD,(604) 585-9279 or visit our website at www.pigeonpatrol.ca

Pigeon/Pigeon Patrol / Pigeons Roosing / Vancouver Pigeon Control / Bird Spikes / Bird Control / Bird Deterrent / PIgeon Deterrent / Surrey Pigeon Control / Pest / Seagull deterrent / Vancouver Pigeon Blog / Birds Inside Home / Pigeons in the cities / Ice Pigeons / What to do about pigeons / sparrows, Damage by Sparrows, How to Keep Raccoons Away, Why Are Raccoons Considered Pests / De-fence / Pigeon Nesting / Bird Droppings / Pigeon Dropping / woodpecker control / Professional Bird Control Company / Keep The Birds Away / Birds/rats/seagull/pigeon/woodpecker/dove/sparrow/pidgeon control/pidgeon problem/pidgeon control/flying rats/pigeon problems/ bird netting/bird gel/bird spray/bird nails/bird guard