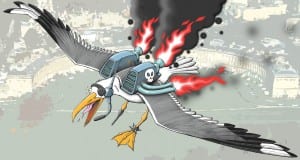 OTTAWA — An Ottawa man will serve five days in jail for bashing a gull to death because it was stealing the seed he meant for pigeons in the ByWard Market last summer.
Keith Watt, 59, was sentenced Thursday in an Ottawa courtroom on a charge of causing distress to an animal.
Watt beat the bird on Aug. 27, 2013. It died of its injuries two days later.
"Violence against animals is not acceptable, no matter what the animal," Bruce Roney, executive director of the Ottawa Humane Society, said in a statement. "This bird really suffered before dying from its injuries. We're pleased the justice system has acknowledged that this act of animal cruelty is unacceptable to our community."
According the Humane Society report of the case, Watt was feeding pigeons in the Market and got mad when gulls arrived and began to eat the food, too. One gull got close enough that Watt was able to grab it. The gull bit him.
Watt "responded by swinging the gull with what appeared to be full force against a brick wall." He then tossed the badly injured bird over a nearby fence.
A witness reported the incident and the gull was taken to the Wild Bird Care Centre, where it died.
Watt was charged under the Ontario SPCA Act.
He was also put on probation for two years and is banned from owning an animal for five years. He must also pay the Humane Society's court costs.
About Pigeon Patrol:
Pigeon Patrol Products & Services is the leading manufacturer and distributor of bird deterrent (control) products in Canada. Pigeon Patrol products have solved pest bird problems in industrial, commercial, and residential settings since 2000, by using safe and humane bird deterrents with only bird and animal friendly solutions. At Pigeon Patrol, we manufacture and offer a variety of bird deterrents, ranging from Ultra-flex Bird Spikes with UV protection, Bird Netting, 4-S Gel and the best Ultrasonic and audible sound devices on the market today.
Voted Best Canadian wholesaler for Bird Deterrent products four years in a row.
Contact Info: 1- 877– 4– NO-BIRD (www.pigeonpatrol.ca)  Now shipping World Wide.