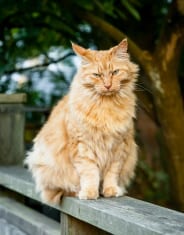 A crackdown on cats suggested by some Dunedin city councillors could be scratched due to legal concerns.
The prospect was raised at yesterday's planning and environment committee as councillors debated two new draft bylaws designed to update rules for controlling dogs and other animals in Dunedin.
The two documents – one covering dog control, and the second other animals and birds – were to be released for public consultation once endorsed by councillors.
Complainants as vexatious as dogs?
But Cr Kate Wilson took exception to their contents yesterday, questioning why the documents sent a "really clear message" about controlling dogs while overlooking cats.
Cats were the only animals allowed to roam beyond their owner's property boundary, without rules set by council for controlling them, she said.
That was despite views previously expressed by groups like Save the Otago Peninsula (Stop) about the need to control domestic cats, perhaps even by neutering them, she said.
"I believe there's a willingness in public to test that, or at least have that discussion," she said.
She questioned why draft rules covered protecting wildlife from dogs, but not cats.
Council animal control team leader Ros MacGill told yesterday's meeting she would need legal advice on any move to apply such rules to cats in future.
But despite that, consultation material to be released to the public included three options to manage cat problems.
The options ranged from no change to introducing new restrictions, including a requirement that cats be neutered, kept indoors at night or even banned in some areas.
However, council staff proposed only to limit cat numbers in cases where there were problems and voluntary action failed.
Cr MacTavish said two of the options appeared "fairly limited", while the third was "fairly restrictive".
She wondered if the council had considered registering and microchipping cats, as was already required for non-working dogs, instead.
Ms MacGill said she would also have to seek legal advice on that idea, as it was her understanding such rules had to be set nationally.
Council staff indicated legal advice could be considered during the consultation process, but Cr Wilson said she would not vote to begin that process until legal issues were considered.
Mayor Dave Cull also worried about releasing documents without first understanding their legal implications.
"It may be delayed . . . but one of the lessons we have had in other areas is, get it right the first time," he said.
Councillors voted to leave action on the draft bylaws until legal advice was considered.
The draft bylaws also sought to update a host of other rules, including relaxing one to allow dogs on leads to be walked at the St Clair Esplanade, Ms MacGill said.
The rules would also address other key issues, including ongoing problems with dog fouling on sports fields and dog attacks on wildlife, plus improving access to dog-exercising areas, she said.
The proposals were not yet set in stone, and public consultation would guide the final shape of the bylaws, she said.
"It's not a decision we have made. We want to make that very clear."
About Pigeon Patrol:
Pigeon Patrol Products & Services is the leading manufacturer and distributor of bird deterrent (control) products in Canada. Pigeon Patrol products have solved pest bird problems in industrial, commercial, and residential settings since 2000, by using safe and humane bird deterrents with only bird and animal friendly solutions. At Pigeon Patrol, we manufacture and offer a variety of bird deterrents, ranging from Ultra-flex Bird Spikes with UV protection, Bird Netting, 4-S Gel and the best Ultrasonic and audible sound devices on the market today.
Voted Best Canadian wholesaler for Bird Deterrent products four years in a row.
Contact Info: 1- 877– 4– NO-BIRD (www.pigeonpatrol.ca)