Safety should come first!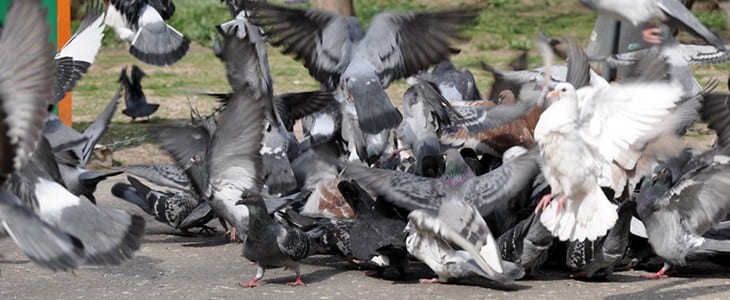 Britain's shooters must try to shoo away some  birds before they can be shot for damaging crops, according to new plans from the Government's wildlife advisers.
Those breaking the rules could face six months in jail or a £5,000 fine
At present, if farmers have a problem with pigeons or crows eating wheat or stealing chickens' eggs, they can decide the best option is to shoot them. They only need to be 'satisfied' that scaring or other measures such as netting would be ineffective or impracticable before reaching for the gun.
But officials from the Government's wildlife advisers Natural England now want to ensure that other methods are tried before farmers shoot.
Under their proposals, it would be a legal requirement for licensed gun owners to take 'reasonable and appropriate steps' such as 'scaring' to resolve any problem before resorting to firearms.
The new rules are included in a shake-up of the General Licence, which allows licensed gun owners to kill pests such as magpies, crows and rooks.
Simon Clarke, of the British Association of Shooting and Conservation, said: 'What are we supposed to  do – go out in bright shiny clothes, waving our arms and making a lot of noise before shooting? And who is going to wander round fields checking whether every pigeon-shooter has tried to scare away the pest birds before shooting?'
'For example, many farmers will use gas-guns or scarecrows to deter birds. However, this is often not wholly effective and lethal control will also be necessary. This is appropriate as the farmers  are clearly doing everything reasonable and practicable.'
 About Pigeon Patrol:
Pigeon Patrol Products & Services is the leading manufacturer and distributor of bird deterrent (control) products in Canada. Pigeon Patrol products have solved pest bird problems in industrial, commercial, and residential settings since 2000, by using safe and humane bird deterrents with only bird and animal friendly solutions. At Pigeon Patrol, we manufacture and offer a variety of bird deterrents, ranging from Ultra-flex Bird Spikes with UV protection, Bird Netting, 4-S Gel and the best Ultrasonic and audible sound devices on the market today.
Voted Best Canadian wholesaler for Bird Deterrent products four years in a row.            Contact Info: 1- 877– 4– NO-BIRD (www.pigeonpatrol.ca)  Now shipping World Wide.