We learn that there are five senses (sight, hearing, touch, smell and taste). And we say that there is the "sixth sense," meaning intuition or a hunch. But there is a physiological seventh sense that detects magnetic fields and, in some species, an eighth sense that detects electrical fields, and perhaps other senses still to be discovered.
Many animals (and plants!) have magnetoreception: birds, turtles, mice, bats, ants, lobsters, bees, newts, fishes, to list a few examples. The capability is also present in bacteria and may be a basic sense in virtually all organisms. However, it is one thing to demonstrate experimentally that an organism is able to sense and respond to magnetic fields, but it is quite another thing to learn how, or if, the magnetic sense is used by the organism.
A real-life function of magnetic sense is known in many animals. For instance, homing pigeons use magnetic sense to locate their home roost. Migratory birds use magnetoreception as well as celestial cues to find the way between nesting and wintering grounds. Sea turtles use this sense to find their nesting beaches and their hatchlings use it, along with light, to find their way to the sea. Some salamanders and toads use magnetic sense to orient themselves to the shore of a pond or to locate their home pond. Certain ants and bees use magnetic (and other clues) to navigate between their nests and food sources. Salmon use magnetic clues, with odor clues, to navigate back to their 'home' streams to spawn. An electrical sense of sharks interacts with magnetic sense, allowing them to orient themselves in the ocean.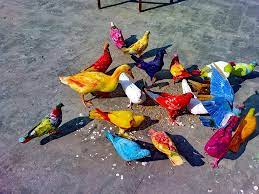 The plot thickens, however, as researchers discovered magnetic reception and responses at all stages of fish development. For instance, magnetic fields affect the movement of sperm and their success in fertilizing eggs, as well as the size of the resulting embryos and their orientation. The behavior, orientation, heart rates and hormonal activities of larvae and fry are affected by magnetic fields too. The biological significance of these responses apparently remains to be determined.
And what about magnetic sense in plants, which don't move around? Experiments have shown effects of magnetic fields on such features as flowering time, seed germination and seedling growth, photosynthesis, the behavior of pollen and roots, and enzyme activity. But the importance of these responses in the real world is anything but clear.
How does magnetoreception work? Only the briefest, most simplistic explanation can fit in the space of this essay. The earth's main magnetic field has three features that can provide information to suitable receptors. The field varies in intensity, which varies with location and the horizontal or vertical orientation of the force. Another feature is called "inclination," referring to the distance from the surface to the depths of the earth; inclination is very steep near the poles and flatter near the equator, so it gives an index of distance from the poles (i.e., latitude). The field also can provide a compass direction; the declination of a compass indicates deviation from the North Pole/South Pole axis of rotation of the earth (related, roughly, to longitude, and depending on latitude). In addition to the main field, there are local anomalies, commonly caused by magnetized rock.
How do animals sense those magnetic features? Some animals have tiny particles of magnetic material in their beaks, snouts, brains or elsewhere. Another way involves a protein called cryptochrome, found in both animals (including humans) and plants, which undergoes a complex reaction allowing detection of magnetic inclination. In bird eyes, cryptochrome is activated by blue light and may create a filter for light falling on the retina, making a pattern that changes when a bird moves its head, changing the angle between head and magnetic field. There are other possibilities too. In any case, any information gleaned from magnetic features has to be related to an internal map or some other point of reference, if it is to be used for orientation and navigation.
Note that the magnetic sense is so sensitive that it can work over very small distances, such as when a bird moves its head. It has also been invoked as a possible explanation for how foxes orient that marvelous jump as they pounce with their front feet on a rodent under the snow.
Pigeon Patrol Products & Services is the leading manufacturer and distributor of bird deterrent (control) products in Canada. Pigeon Patrol products have solved pest bird problems in industrial, commercial, and residential settings since 2000, by using safe and humane bird deterrents with only bird and animal friendly solutions. At Pigeon Patrol, we manufacture and offer a variety of bird deterrents, ranging from Ultra-flex Bird Spikes with UV protection, Bird Netting, 4-S Bird Gel and the best Ultrasonic and audible sound devices on the market today.
Voted Best Canadian wholesaler for Bird Deterrent products ten years in a row.
Contact us at 1- 877– 4– NO-BIRD, (604) 585-9279 or visit our website at www.pigeonpatrol.ca
Pigeon/Pigeon Patrol / Pigeons Roosting / Vancouver Pigeon Control /Bird Spikes / Bird Control / Bird Deterrent / Pigeon Deterrent?  Surrey Pigeon Control / Pest /Seagull deterrent / Vancouver Pigeon Blog / Birds Inside Home / Pigeons in the cities / Ice Pigeons/ What to do about pigeons/ sparrows , Damage by Sparrows, How To Keep Raccoons Away,  Why Are Raccoons Considered Pests/ De-fence / Pigeon Nesting/ Bird Droppings / Pigeon Dropping/ woodpecker control/ Professional Bird Control Company/ Keep The Birds Away/ Birds/rats/ seagull/pigeon/woodpecker/ dove/sparrow/pidgeon control/pidgeon problem/ pidgeon control/flying rats/ pigeon Problems/ bird netting/bird gel/bird spray/bird nails/ bird guard