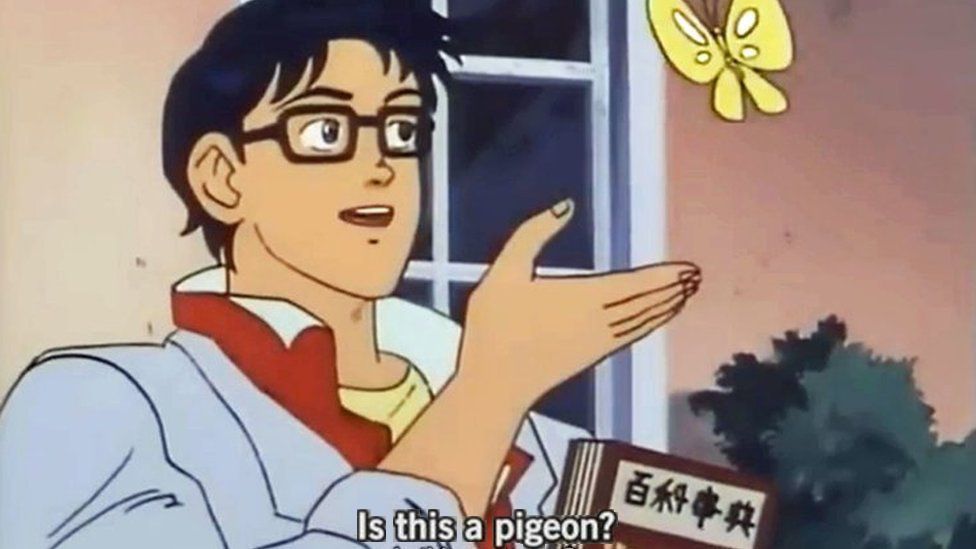 2018 is becoming the year old memes come back to life.
When a 2011 meme called American Chopper re-emerged on Twitter in 2018, the BBC explored how a meme about two men arguing had lived a second life long after its first.
Now the feat has been repeated, as a 2011 image macro (a still picture with text imposed) asking if a butterfly is a pigeon has surged in popularity seven years later.
In the widely shared image, a character from a Japanese anime gestures towards a butterfly and asks: "Is this a pigeon?"
Is this an old meme?
The image can be traced back to Indizi dell'avvenuta catastrofe on Tumblr, who posted it as an example of amusing subtitles in anime.
It was used in 2011 as a reaction image – posted to show confusion or suggest another person's opinion did not make sense.
Seven years after its original appearance online, the pigeon meme reappeared with text added to ask if "literally anything" was a "big mood" on Twitter.
A "big mood" is a Twitter term used to express approval or the fact a user agrees with or can identify with an item of tweeted content.
Pigeon Patrol Products & Services is the leading manufacturer and distributor of bird deterrent (control) products in Canada. Pigeon Patrol products have solved pest bird problems in industrial, commercial, and residential settings since 2000, by using safe and humane bird deterrents with only bird and animal friendly solutions. At Pigeon Patrol, we manufacture and offer a variety of bird deterrents, ranging from Ultra-flex Bird Spikes with UV protection, Bird Netting, 4-S Bird Gel and the best Ultrasonic and audible sound devices on the market today.
Voted Best Canadian wholesaler for Bird Deterrent products ten years in a row.
Contact us at 1- 877– 4– NO-BIRD, (604) 585-9279 or visit our website at www.pigeonpatrol.ca
Pigeon/Pigeon Patrol / Pigeons Roosting / Vancouver Pigeon Control /Bird Spikes / Bird Control / Bird Deterrent / Pigeon Deterrent?  Surrey Pigeon Control / Pest /Seagull deterrent / Vancouver Pigeon Blog / Birds Inside Home / Pigeons in the cities / Ice Pigeons/ What to do about pigeons/ sparrows , Damage by Sparrows, How To Keep Raccoons Away,  Why Are Raccoons Considered Pests/ De-fence / Pigeon Nesting/ Bird Droppings / Pigeon Dropping/ woodpecker control/ Professional Bird Control Company/ Keep The Birds Away/ Birds/rats/ seagull/pigeon/woodpecker/ dove/sparrow/pidgeon control/pidgeon problem/ pidgeon control/flying rats/ pigeon Problems/ bird netting/bird gel/bird spray/bird nails/ bird guard