There are several species of birds that choose to build their nests around human habitation such as houses and sheds. Sometimes this can look messy and cause problems such as build up of droppings under the nest. We are often asked how to deal with this problem or whether the nest can be moved to another location.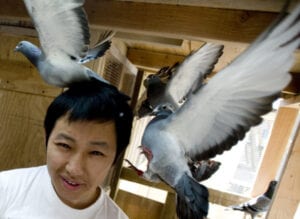 The first thing to do is to find out what species of bird is building the nest. Have a good look at them and see if you can identify the species. Understanding more about the birds themselves may help you accept their presence around your home – you might even find that you have a rare and interesting bird in your garden.
It is very difficult to relocate nests without disturbing birds, so we don't recommend moving nests unless this can be done before any eggs have been laid. If the birds are still in the process of building the nest then you can destroy the nest and obstruct the area so they cannot build another nest in the same place.
Alternatively, you could let the birds build the nest and live with them until their babies have fledged. It can be fascinating to watch the birds sitting on the nest, the eggs hatch and then the young grow up and fledge. Baby birds grow at a very rapid rate so they will only stay in the nest (and around your home) for a short period of time. The babies then tend to fly away to find their own mates. The parents will often move on to another location as well.
You might then like to make the area less attractive to nesting birds before next spring/summer by putting up wire or blocking access to the area where the nest was.
Pigeon Patrol Products & Services is the leading manufacturer and distributor or bird deterrent (control) products in Canada. Pigeon Patrol products have solved pest bird problems in industrial, commercial, and residential settings since 2000, by using safe and humane bird 
deterrents with only bird and animal friendly solutions. At Pigeon Patrol, we manufacture and offer a variety of bird deterrents, ranging from Ultra-flex Bird Spikes with UV protection, Bird Netting, 4-S Bird Gel and the best Ultrasonic and audible sound devices on the market today.
Voted Best Canadian wholesaler for Bird Deterrent products ten years in a row. 

Contact us at 1 877-4-NO-BIRD,(604) 585-9279 or visit our website at www.pigeonpatrol.ca

Pigeon/Pigeon Patrol / Pigeons Roosing / Vancouver Pigeon Control / Bird Spikes / Bird Control / Bird Deterrent / PIgeon Deterrent / Surrey Pigeon Control / Pest / Seagull deterrent / Vancouver Pigeon Blog / Birds Inside Home / Pigeons in the cities / Ice Pigeons / What to do about pigeons / sparrows, Damage by Sparrows, How to Keep Raccoons Away, Why Are Raccoons Considered Pests / De-fence / Pigeon Nesting / Bird Droppings / Pigeon Dropping / woodpecker control / Professional Bird Control Company / Keep The Birds Away / Birds/rats/seagull/pigeon/woodpecker/dove/sparrow/pidgeon control/pidgeon problem/pidgeon control/flying rats/pigeon problems/ bird netting/bird gel/bird spray/bird nails/bird guard