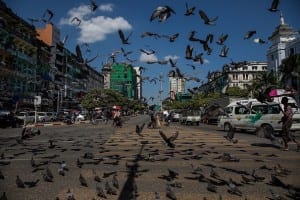 A petition to protect homes in Deal from an "infestation" of pigeons has gained more than 200 signatures.
It has been set up by Sean Gabb, of Middle Street, Deal, as he claims the town, and particularly the High Street, has become infested with pigeons and their waste.
He said: "We have done everything possible within the law to deter pigeons. It isn't working. The financial cost for property owners is huge, as they're spending money on painting their houses.
Dr Sean Gabb hands the petition to Deal's deputy mayor Wayne Elliott and town clerk Lorna Crow"It's polluting the town, as you walk around you can sometimes smell the pigeons or see piles of pigeon dung."
He claims the number of pigeons in the town has increased in the past five years and their waste is damaging historic buildings and private homes in the area, as well as St George's Church. Dr Gabb, 50, is now calling on the district council to create a by-law which would make it an offence for people to feed pigeons, as he believes this is encouraging the population.
He would also like the council to urge shopkeepers and cafe owners in the High Street to tell customers not to feed them.
The petition also calls on the council to use its existing powers to make property owners clean up overgrown gardens, or derelict buildings which have become nesting places for the birds.
The petition was handed to deputy mayor Cllr Wayne
Elliott on Tuesday, who presented it to Dover District Council's Cllr Trevor Bartlett, portfolio holder for property access and property management.
This comes after Peter Jull, chairman of Deal and Walmer Chamber of Trade, raised the issue with the district council in July.
He said traders had been forced to spend thousands of pounds on spikes to deter pigeons from their businesses and clean up the mess.
Speaking at the time, he said: "The nuisance of these feral animals is costing thousands of pounds for business owners who are continually paying to clean, repair and protect their buildings from damage by pigeons."
The petition will now be discussed at the district council.
About Pigeon Patrol:
Pigeon Patrol Products & Services is the leading manufacturer and distributor of bird deterrent (control) products in Canada. Pigeon Patrol products have solved pest bird problems in industrial, commercial, and residential settings since 2000, by using safe and humane bird deterrents with only bird and animal friendly solutions. At Pigeon Patrol, we manufacture and offer a variety of bird deterrents, ranging from Ultra-flex Bird Spikes with UV protection, Bird Netting, 4-S Gel and the best Ultrasonic and audible sound devices on the market today.
Voted Best Canadian wholesaler for Bird Deterrent products four years in a row.
Contact Info: 1- 877– 4– NO-BIRD (www.pigeonpatrol.ca)