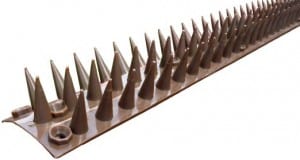 A HOUSING provider has bowed to pressure from local residents and agreed to take down an unpopular fence that is said to have converted a playground into a prison yard.
Local residents were at a loss to explain why The Guinness Partnership erected a three metre high fence, complete with sharp spikes, around a playground beside Mennaye Gardens and Forth Scol estate in Illogan.
The work started around three weeks ago and was completed at the end of last week.
It incited an angry response from local residents who said that it was dragging the name of the area through the mud.
Many of today's greenest buildings are also some of the most beautifully designed
One of the residents, Sue Williams, said: "It looks like a prison exercise yard and nearly everyone I have spoken to has said what an eyesore it is and that it is not giving our estate a good name.
"Even the workmen erecting it said they think it is horrible and they wouldn't send their children to this park.
"We want it back to how it was before with the nice ornate fencing that wasn't damaged and was adequate enough."
Samantha Eddy lives in a house that looks over the park.
"We back onto the park and I can see the new fence clearly from my house," she said.
"It is an unsightly mess and there is no apparent reason why it has been built. We used to have problems with people drinking in the park but that was a long time ago now."
Trina Knowles added: "It is intimidating and I don't think my grandson wants to go into the park anymore.
"Apparently it is to stop rubbish and drinking in there but neither or those things have been a problem for a long time now."
Shirley Paull went onto describe the structure as "disgusting" and said that the spikes on top are dangerous and could have disastrous consequences should children try and climb the fence.
After being contacted by the West Briton The Guinness Partnership has agreed to remove the fence.
A spokesperson for The Guinness Partnership said: "We erected the fence to address reports of anti-social behaviour that had been raised by our customers during estate inspections. However we completely accept the concerns that have been raised and have made arrangements for it to be taken down and stored for future use.
"We apologise for any upset this has caused, and we will continue to work with our customers over the next few weeks to listen to their views and find an alternative solution."
About Pigeon Patrol:
Pigeon Patrol Products & Services is the leading manufacturer and distributor of bird deterrent (control) products in Canada. Pigeon Patrol products have solved pest bird problems in industrial, commercial, and residential settings since 2000, by using safe and humane bird deterrents with only bird and animal friendly solutions. At Pigeon Patrol, we manufacture and offer a variety of bird deterrents, ranging from Ultra-flex Bird Spikes with UV protection, Bird Netting, 4-S Gel and the best Ultrasonic and audible sound devices on the market today.
Voted Best Canadian wholesaler for Bird Deterrent products four years in a row.
Contact Info: 1- 877– 4– NO-BIRD (www.pigeonpatrol.ca)