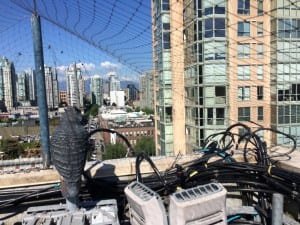 In a scene reminiscent of a terrifying Alfred Hitchcock movie, a hospital in Drogheda has had to spend almost €20,000 on specialist netting to protect its workers from flocks of angry birds.
Our Lady of Lourdes Hospital bought the equipment last year to shield maintenance workers from feathered assailants in the vicinity of rooms containing vital hospital equipment, located on the roof of the public hospital.
A total of €18,435 was spent on three specialist roof nets to protect staff from the threat of nuisance birds, according to documents obtained under the Freedom of Information Act.
The hospital is situated close to Drogheda Port and around five miles from the Irish Sea.
The netting was required to protect staff from flocks of seagulls while carrying out maintenance work on ventilation systems and other machinery.
In addition, a pest control company was employed to remove a number of bird nests from the roof in July and August last year.
Nets
The cost of the specialist nets is part of a €35,152 spend on pest control by the hospital during the past five years.
"A decision was taken to purchase roof netting by Our Lady of Lourdes Hospital in order to address bird activity and nesting in the vicinity of the hospital," said a spokesperson for the Health Service Executive.
@The roof netting has been put in place to provide safe access for maintenance staff to the hospital's plant rooms located on the hospital roof. "The plant rooms house hospital systems such as the main ventilation systems for operating theatres and intensive care areas."
The spokesperson added that the netting has "proven successful in providing safe access to the staff to carry out their work in the plant rooms".
The three roof nets cost over €6,000 each.
However, the hospital is examining additional methods of bird control to protect its staff from their feathered foes.
A proposal to install an ultrasonic bird repellent is currently being considered by management. In July the spread of seagulls was raised in the Seanad where Senator Ned O'Sullivan said they had "lost the run of themselves".
About Pigeon Patrol:
Pigeon Patrol Products & Services is the leading manufacturer and distributor of bird deterrent (control) products in Canada. Pigeon Patrol products have solved pest bird problems in industrial, commercial, and residential settings since 2000, by using safe and humane bird deterrents with only bird and animal friendly solutions. At Pigeon Patrol, we manufacture and offer a variety of bird deterrents, ranging from Ultra-flex Bird Spikes with UV protection, Bird Netting, 4-S Gel and the best Ultrasonic and audible sound devices on the market today.
Voted Best Canadian wholesaler for Bird Deterrent products four years in a row.
Contact Info: 1- 877– 4– NO-BIRD (www.pigeonpatrol.ca)