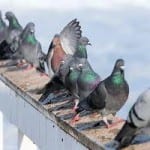 Wow where can you feel safe from infection if not in a hospital? Pigeon Patrol found this story and the troubles the UK is having.
Rats, cockroaches and pigeons were among the pests to be found in hospitals across the city during the last year.  At Birmingham's Queen Elizabeth Hospital, pest controllers disposed of pigeons in the oncology unit, with 62 call-outs by the Trust over the last 12 months.
At Good Hope Hospital a dead pigeon was removed from an X-Ray filing room, as well as a cockroach found in a ward kitchen at Heartlands Hospital, both run by the Heart of England NHS Foundation Trust.
Katherine Murphy, Chief Executive of the Patients Association, said that the information was a major safety concern.
"Each of our hospitals has a contract with Ecolab, who provide effective, pro-active pest elimination." A spokesman from University Hospitals Birmingham Trust, which includes the QE Hospital added: "The Trust attaches the greatest importance to infection control and in doing so ensures that our patients, staff and visitors are exposed to minimum risk relating to pest infestation."
I think that the hospitals could use Pigeon Patrol's service and most of it's pigeon deterrent products including the bird spikes, bird netting, 4-S Gel and the new Ultrasonic repellers to help ward off the pigeons.
http://www.birminghammail.co.uk/lifestyle/health/health-fears-rats-cockroaches-pigeons-6500798