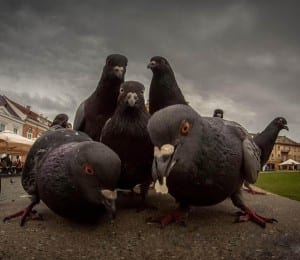 A MUM has had to keep her two young children away from playing in their back yard because it is being plagued by a flock of pigeons.
Jane Turner, 40, said the pigeons had taken up residence on the roofs of terraced houses in Skipton Road, Colne, after a derelict mill was demolished.
A flock of '30 to 40' birds had been living in Oak Mill, but after it was demolished in December last year they moved across the road to the roofs of the houses.
Mrs Turner said: "The pigeons are on the roofs of around three houses in Skipton Road. It's a total nightmare. The back yard and windows are covered in pigeon muck — it's a massive health hazard.
"I have two young children under four but I can't let them out the back because of this. It's been like this for about six months and we don't know what else to do now.
"The council have said it is not their problem, but they gave approval for the demolition of the mill. Now we've been left with the pigeons."
Pendle Council fought an 18-month battle to get the eyesore mill demolished, which ending with the authority taking the Isle of Man company that owns the building to court.
Mrs Turner said: "We have had to get a report on the problem from an environmental company, but it looks like it is going to cost thousands to sort it out. We can't find that sort of money."
Philip Mousdale, deputy chief executive, said: "We sympathise with Ms Turner and her neighbours.
"However, the council does not have any responsibility or duty of care for pigeons as part of the planning process."
About Pigeon Patrol:
Pigeon Patrol Products & Services is the leading manufacturer and distributor of bird deterrent (control) products in Canada. Pigeon Patrol products have solved pest bird problems in industrial, commercial, and residential settings since 2000, by using safe and humane bird deterrents with only bird and animal friendly solutions. At Pigeon Patrol, we manufacture and offer a variety of bird deterrents, ranging from Ultra-flex Bird Spikes with UV protection, Bird Netting, 4-S Gel and the best Ultrasonic and audible sound devices on the market today.
Voted Best Canadian wholesaler for Bird Deterrent products four years in a row.
Contact Info: 1- 877– 4– NO-BIRD (www.pigeonpatrol.ca)