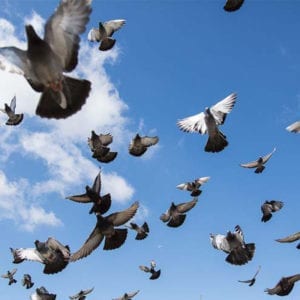 (October 6, 2015 – Toronto, ON) Ingrid Veninger is one of our favourite filmmakers. Publisher Ralph Lucas first met her for the Toronto screening of The Limb Salesman at the Canadian Film Festival in 2004. Since then Northernstars has interviewed her twice, most recently in 2013 when the film she wrote, produced and directed, The Animal Project, opened in general distribution. It is strange to use the word general, which makes things sound sort of normal, when reporting on such a talented and unique filmmaker.
In a small group that includes Winnipeg's Guy Madden, Veninger doesn't so much make movies as she constructs them, builds them from initial idea to a finished project that has been crafted with abundant care, remarkable problem solving abilities and a swift spirit that adapts undaunted to the challenges involved in getting a film made. And when it is done, she finds a way to make it even better.
Such is the case for He Hated Pigeons. It's her 5th feature film and it will enjoy a very special one-time only showing at Toronto's Bloor Hot Docs Cinema on October 18 at 3 in the afternoon. He Hated Pigeons is a deliberately low-budget film, this time a remarkably well-measured tale of love and loss. It stars Pedro Fontaine (pictured) who met the director when he served as a translator when Veninger was attending a film festival in Santiago, Chile in 2014. When the job was done, Fontaine mentioned that more than a translator he was also an actor and it would be nice to work together. Sometime later Ingrid Veninger contacted Fontaine to say that she wanted to write a role just for him.
As Veninger tells it, "This project has been the most intense. Not because I booked the crew's flights to Chile before there was a script, or because I planned to primarily shoot in a language (Spanish) that I don't speak and in a foreign country, or because I wrote the lead role for an actor whose work I has never seen… but because every step of the process had to allow for the added uncertainty of a live-score."
That's right. The movie has been made without a music track. As we have written here before, while the words in a movie may tell you what to think, it's the music that tells you what to feel. Veninger continues: "The idea different musicians, in each city, improvising their own music was a commitment that influenced and informed every choice in making this film from writing and shooting, through editing and sound design. There was no way the live-score could be a gimmick, it needed to be intrinsically woven into the fabric of the film so that it became essential."
The key word in here in case you missed it is "improvising." There is no written score for the live musicians to follow. This isn't a rehearsal piece. I any other filmmaker's hands this might be ascribed as throwing caution to the wind. But for Ingrid Veninger this is just part of the process of making her highly individual films.
"He Hated Pigeons deals with letting go. Life is uncertain. Filmmaking is uncertain. And, I want the audience to feel something which has its own intrinsic impermanence. So every public presentation will be a one-time-only event."
For the October 18 screening in Toronto the improvisation will be provided by Ohad Benchetrit and Justin Small. The Bloor Hot Docs Cinema is located at 506 Bloor Street West and the rice of admission is "pay what you can." Which is quite a bargain when you'll be experiencing something that is, quite possibly, priceless.
About Pigeon Patrol:
Pigeon Patrol Products & Services is the leading manufacturer and distributor of bird deterrent (control) products in Canada. Pigeon Patrol products have solved pest bird problems in industrial, commercial, and residential settings since 2000, by using safe and humane bird deterrents with only bird and animal friendly solutions. At Pigeon Patrol, we manufacture and offer a variety of bird deterrents, ranging from Ultra-flex Bird Spikes with UV protection, Bird Netting, 4-S Gel and the best Ultrasonic and audible sound devices on the market today.
Voted Best Canadian wholesaler for Bird Deterrent products four years in a row.
Contact Info: 1- 877– 4– NO-BIRD (www.pigeonpatrol.ca)