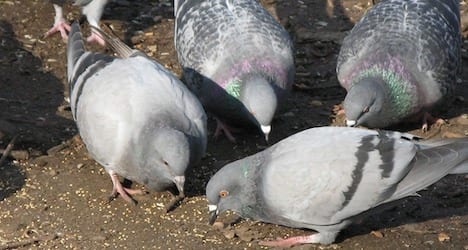 A Harris hawk has been released into the skies above Watford town centre to terrify pigeons away from the newly revamped Parade.Officials said the hawk, called Angel, has been trained not to maul the pigeons but only scare them away and described the method as the most "humane" available.
"Harris hawks are relatively timid and will not hunt anything much bigger or faster than them, but they will make urban pigeons feel suitably unwelcome."
Alongside its aerial assault, the council is also mounting an information campaign against town centre pigeons.
"By flying a Harris Hawk trained not to harm the pigeons, just deter them, we've found an effective but humane method of pest control."
Officers have been handing out leaflets encouraging people not to feed pigeons and the council has also commissioned a video, which compares the bird to rats.
The anti-pigeon initiative comes as the redevelopment of The Parade nears completion. Part of the project will see the northern end of the pedestrianised area de-cluttered and opened up to be used for cultural events.
About Pigeon Patrol:
Pigeon Patrol Products & Services is the leading manufacturer and distributor of bird deterrent (control) products in Canada. Pigeon Patrol products have solved pest bird problems in industrial, commercial, and residential settings since 2000, by using safe and humane bird deterrents with only bird and animal friendly solutions. At Pigeon Patrol, we manufacture and offer a variety of bird deterrents, ranging from Ultra-flex Bird Spikes with UV protection, Bird Netting, 4-S Gel and the best Ultrasonic and audible sound devices on the market today.
Voted Best Canadian wholesaler for Bird Deterrent products four years in a row.
Contact Info: 1- 877– 4– NO-BIRD (www.pigeonpatrol.ca)