Sampling of pigeons captured on the streets of Madrid has revealed the bacterial pathogens they carry. Researchers writing in BioMed Central's open access journal Acta Veterinaria Scandinavica found two bugs that were highly prevalent in the bird population, Chlamydophila psittaci and Campylobacter jejuni, both of which cause illness in humans carried by pigeons.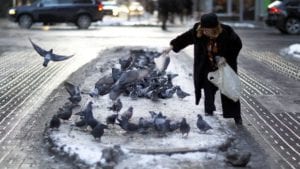 Fernando Esperón from the Animal Health Research Center, Madrid, Spain, worked with a team of researchers to analyse blood and enema samples taken from 118 pigeons caught using gun-propelled nets.
He said, "The present study demonstrates the extremely high prevalence of two zoonotic pathogens in feral pigeons in Madrid. At the same time, infection with these pathogens did not appear to be associated with any harmful clinical signs in the birds themselves. This leads to the hypothesis that pigeons act as asymptomatic reservoirs of Chlamydophila psittaci and Campylobacter jejuni. These birds may therefore pose a public health risk to the human population."
Chlamydophila psittaci was found in 52.6% of the carried by pigeons captured, while Campylobacter jejuni was present in 69.1%. Although there have been few reports of disease transmission between pigeons and humans, it can occur by aerosols, direct contact or indirect contact through food and water contamination.
According to Esperón, "Thermophilic Campylobacter species are considered the primary pathogens responsible for acute diarrhea in the world. In fact, in many countries such as England and Wales, Canada, Australia and New Zealand Campylobacter jejuni infection causes more cases of acute diarrhea than infection by Salmonella species."
At Pigeon Patrol, we manufacture and offer a variety of bird deterrents, ranging from Ultra-flex Bird Spikes with UV protection, Bird Netting, 4-S Gel and the best Ultrasonic and audible sound devices on the market today.
Contact us at 1- 877– 4– NO-BIRD, (604) 585-9279 or visit our website at www.pigeonpatrol.ca
Bird Gone, Pigeon Gone, Seagull Gone, Pigeon issue, pigeon spikes, 1-877-4NO-BIRD, 4-S Gel, Bird Control, Pigeon Control, bird repellent, Bird Spikes, sonic bird repellent, stainless steel bird spikes, bird spikes Vancouver, Ultra Sonic Bird Control, Bird Netting, Plastic Bird Spikes, Canada bird spike deterrents, Pigeon Pests, B Gone Pigeon, Pigeon Patrol, pest controller, pest control operator, pest control technician, Pigeon Control Products, humane pigeon spikes, pigeon deterrents, pigeon traps, Pigeon repellents, Sound & Laser Deterrents, wildlife control, raccoon, skunk, squirrel deterrent, De-Fence Spikes, Dragons Den, Canada bird spikes, Canada pigeon, pigeon control, pigeon patrol, pigeon. Kill pigeons, crow, starling