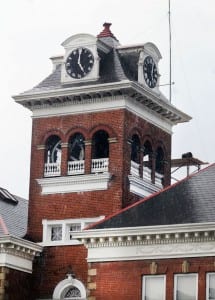 Those artificial, screeching bird noises atop the Briggs Building have gone silent, but the reason remained a mystery to the city manager as of Friday morning.
In early March, Hollister officials responded to problems with too many pigeons at the Briggs Building that were leaving droppings all over the structure. The city paid $2,200 for equipment that continuously emitted loud, automated bird calls meant to shoo away the pigeons.
"There's pigeon droppings everywhere. It's not sanitary at all," City Manager Bill Avera told the Free Lance in March. "We talked with some different folks and this seemed to be the most humane way to get them out of there."
The city installed the boxes in early March. But the hope at the time was that eventually, the speakers could be turned on intermittently while keeping pigeons out of the parking structure.
In the past two to three weeks, those previously constant bird sounds suddenly stopped. When informed of the pause in bird screeches, Avera said on Thursday he went to check out the equipment atop the Briggs Building.
The equipment was there, yet Avera did not have a ladder and could not gain access to the machinery, however, so he had to find out whether someone turned it off or if it may be broken.
Katie Helland contributed to this report.
About Pigeon Patrol:
Pigeon Patrol Products & Services is the leading manufacturer and distributor of bird deterrent (control) products in Canada. Pigeon Patrol products have solved pest bird problems in industrial, commercial, and residential settings since 2000, by using safe and humane bird deterrents with only bird and animal friendly solutions. At Pigeon Patrol, we manufacture and offer a variety of bird deterrents, ranging from Ultra-flex Bird Spikes with UV protection, Bird Netting, 4-S Gel and the best Ultrasonic and audible sound devices on the market today.
Voted Best Canadian wholesaler for Bird Deterrent products four years in a row.
Contact Info: 1- 877– 4– NO-BIRD (www.pigeonpatrol.ca)