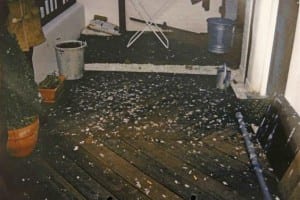 A FORMER mayor of Derry has called for action over pigeon poop along one of the city's main thoroughfares.
Martin Reilly has said measures need to be taken to stop pigeons dropping their "unpleasant and unsafe" deposits on unsuspecting pedestrians and cyclists using the city's Craigavon Bridge.
A common problem in all urban areas, pigeon droppings are unsightly and can cause disease. Local authorities spend large sums of money in their attempts to control pigeon numbers. However, as the birds breed all year round, efforts are often ineffective.
Problems caused by pigeons often attract huge interest. Rufus, an American Harris Hawk, is widely known for his exploits in killing the birds over the All England Tennis Club before and during the annual Wimbledon tournament.
In other areas, other forms of culls are carried out while many authorities cover buildings with specialised anti-bird netting to prevent the pigeons from roosting and breeding.
Mr Reilly, a former SDLP mayor, said he has been contacted by people using the cycle path along the lower deck of Craigavon Bridge who are annoyed at the mess made by the birds. He said the problem had become so bad that walking and cycling along the path was unsafe.
Mr Reilly said Transport NI had suggested using netting to prevent pigeons from roosting on the bridge. He said there could also be other ways of deterring the birds such as by using particular paints to prevent them from nesting.
"I am therefore calling on these statutory agencies to work together to find an adequate solution which would encourage further use of this key walkway and cycle route," he said.
About Pigeon Patrol:
Pigeon Patrol Products & Services is the leading manufacturer and distributor of bird deterrent (control) products in Canada. Pigeon Patrol products have solved pest bird problems in industrial, commercial, and residential settings since 2000, by using safe and humane bird deterrents with only bird and animal friendly solutions. At Pigeon Patrol, we manufacture and offer a variety of bird deterrents, ranging from Ultra-flex Bird Spikes with UV protection, Bird Netting, 4-S Gel and the best Ultrasonic and audible sound devices on the market today.
Voted Best Canadian wholesaler for Bird Deterrent products four years in a row.
Contact Info: 1- 877– 4– NO-BIRD (www.pigeonpatrol.ca)