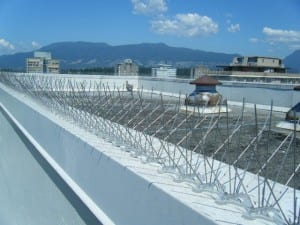 On their website www.pigeonpatrol.com, Pigeon Patrol Products & Services, proudly introduces the Ultra-flex Bird Spike, which prevents birds from landing or roosting. It comes in either a 5 inch or 8 inch spread and is virtually invisible when installed. The spikes come in 2-foot lengths and measure 4½ inches in height. The flexibility of their base and being priced considerably lower than what our competitors are offering, makes these spikes the most logical North American choice for bird control.
Pigeons can carry a number of different diseases ranging from salmonellosis, tuberculosis and ornithosis. While there is debate in the scientific community as to whether or not pigeons can directly pass these diseases to humans the potential risk cannot be ignored.
Pigeons, aside from their threat to humans and domestic animals through disease, their droppings, nesting materials and dead carcasses can cause mite and insect infestations which create further hazards for humans and domestic pets.
Contacting Pigeon Patrol directly or through their website, www.pigeonpatrol.com Pigeon Patrol offers humane ways to deter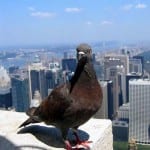 pigeons from perching on your property. Their pigeon spikes are safe, effective and easy to install. These pigeon spikes or bird spikes do not contain any poisonous materials or toxins that can harm children and pets which make these safe for homes and businesses.
Many large buildings and complexes have been using Ultra-Flex Bird Spikes for almost a decade. Pigeon Patrol, creators of Ultra-Flex Bird Spikes now offers these highly effective, cost effective, easy to install bird repellent spikes for businesses and homeowners alike.
You can now protect your property, your staff, your families, friends and business contacts by using Ultra-Flex Bird Spikes and ridding yourself of the health risks and the property damage associated with nesting pigeons and other birds. These bird spikes are easy to buy online at www.pigeonpatrol.com and easy to install and will safely end your problem with unwanted pigeons and other nesting birds.
This company also manufactures Ultrasonic bird repellers or bird control units.

Call them toll free at 1-877-4NO-BIRD