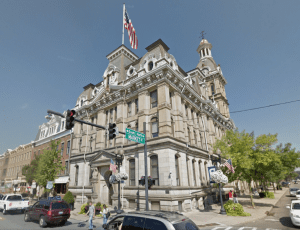 FEEDING animals in St Martin's Churchyard is to be banned, in a bid to halt the damage pigeons, squirrels and rats are causing to the historic building.
Wardens at the central Dorking landmark say they have been forced to take the drastic step as the churchyard is in danger of becoming "a zoo".
According to churchwarden Peter Bunn, the population of pigeons, squirrels and "less-pleasant vermin" living there is causing a significant risk to the much-loved building, which dominates the town's skyline.
Control measures are currently being investigated, which may include making the feeding of animals in the churchyard illegal, as in London's Trafalgar Square.
Mr Bunn told the Advertiser: "There's a completely artificial population there now.
"I think this whole thing started when Albi the albino squirrel was here. After that we became used to seeing people feeding squirrels when it was really cold in the winter – but now it is every day.
"We have a big problem with the pigeon population. In the mornings as soon as someone feeds one a vast flock appears.
"Their droppings are acidic and they are ruining the stonework."
There has been a place of worship on the site of the present church of St Martin since the early 11th century. The current building, with its iconic 210ft spire, was completed in 1877.
However, architects have warned there is high potential for stonework damage due to the large amount of pigeon droppings collecting on it.
Already "significant" amounts of money have been spent on clearing bird mess from high-level gutters, as blockages threaten to cause water damage inside the building.
The second major risk to the church, according to Mr Bunn, is that if squirrels manage to find their way inside they could cause damage to the historic organ or, more seriously, chew through electric wiring.
Mr Bunn added: "These are birds and animals in poor health which are fed on huge quantities of unsuitable food.
"As long as we can remember, it has been a traditional part of growing up in Dorking for children in the depth of winter to put out a few nuts for the birds and squirrels.
"More recently this has developed into year-round feeding with not just nuts, but large quantities of bread.
"This has caused not just exponential growth in the populations, particularly of pigeons and grey squirrels, but also now the appearance of less-pleasant vermin.
"The situation has now become intolerable with a serious health risk to surrounding houses and flats."
Signs requesting "Please – no feeding" will go up at the church shortly.
About Pigeon Patrol:
Pigeon Patrol Products & Services is the leading manufacturer and distributor of bird deterrent (control) products in Canada. Pigeon Patrol products have solved pest bird problems in industrial, commercial, and residential settings since 2000, by using safe and humane bird deterrents with only bird and animal friendly solutions. At Pigeon Patrol, we manufacture and offer a variety of bird deterrents, ranging from Ultra-flex Bird Spikes with UV protection, Bird Netting, 4-S Gel and the best Ultrasonic and audible sound devices on the market today.
Voted Best Canadian wholesaler for Bird Deterrent products four years in a row.
Contact Info: 1- 877– 4– NO-BIRD (www.pigeonpatrol.ca)