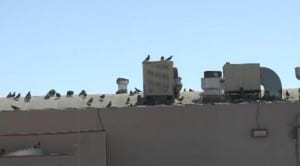 BY DUSICA SUE MALESEVIC | Residents on Duane St. in Tribeca are fed up with a neighbor they say is attracting pigeons and their droppings.
At 173 Duane St., a resident on the fifth floor is reportedly feeding pigeons — they are going back and forth from her apartment — incensing residents at 171 Duane St., who have been complaining to Community Board 1.
There has been a long history of complaints, said Caroline Bragdon, director of neighborhood interventions for the city Department of Health and Mental Hygiene's pest control services program. Many inspections had been done, but it had never warranted a violation until now, she told the Quality of Life Committee at their Thurs., Apr. 16 meeting.
The violation would be sent to the owner of the building, not the tenant.
"Sometimes it seems unfair that we're writing violations to the owner of the building, but we can't go after an individual," she said.
Neighbors said the pigeon droppings are piling up on air conditioner units. The woman has also been seen feeding pigeons in Duane Park.
Benjamin Flavin, lawyer for 171 Duane St., said that the tenant is an elderly woman who has been living at 173 Duane St., a co-op, for around 20 years.
In addition to pigeon problems, Bragdon went over what she called favorite hot spots for rats. She started with 403 Greenwich St., which is between Beach and Hubert Sts.
"Right now, it's just a vacant lot with rat holes in it that no one is doing anything with," she said.
The lot is owned by 403 Greenwich Enterprises L.L.C. The owners have not been attending their hearings, said Bragdon, who has increased the violation from $300 to $600 to now $1,200. She said if this continues, it would go to $2,000.
"They don't care," the city's Bragdon said. "They're just letting their violations default. A lot of the wealthier owners will just pay."
"It's nothing — it's the cost of doing business," said Pat Moore, chairperson of the C.B. 1 committee.
The lot has been vacant for quite some time, said Bragdon, who explained that putting some bait stations costs a couple hundred dollars a month. The owners could also choose to dump gravel over the soil, which would deter the rats.
Further south at 372 Greenwich St. between Harrison and N. Moore Sts., Bragdon said it has gotten pretty ratty. At one time, it was maintained by the volunteer organization, Friends of Greenwich Street, but remains to be seen who is responsible for its upkeep now.
There are several planters, said Bragdon, but it is just one, the one in front of 372 Greenwich that has the rat problem.
"Rat condo," quipped Moore.
Bragdon went through one more site at 29 Harrison St., which was issued its first violation and has Rubbermaid bins filled with soil and gnaw marks on them — a sign that rats were around.
She then listened to places that the committee and the public suggested to investigate. Committee member Marc Ameruso said 53 Beach St. has a raised platform with vents and "at night, [the rats] just take over the street."
C.B. 1 Chairperson Catherine McVay Hughes mentioned a problem site in the Financial District, a lot on Rector and Trinity Place.
"I have never ever seen the quantity and the size of these rats," she said. "It's really scary."
About Pigeon Patrol:
Pigeon Patrol Products & Services is the leading manufacturer and distributor of bird deterrent (control) products in Canada. Pigeon Patrol products have solved pest bird problems in industrial, commercial, and residential settings since 2000, by using safe and humane bird deterrents with only bird and animal friendly solutions. At Pigeon Patrol, we manufacture and offer a variety of bird deterrents, ranging from Ultra-flex Bird Spikes with UV protection, Bird Netting, 4-S Gel and the best Ultrasonic and audible sound devices on the market today.
Voted Best Canadian wholesaler for Bird Deterrent products four years in a row.
Contact Info: 1- 877– 4– NO-BIRD (www.pigeonpatrol.ca)