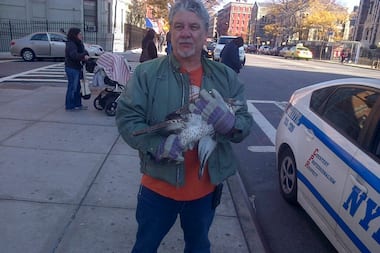 A PEREGRINE falcon has been rescued by firefighters after becoming trapped.
The bird of prey got stuck in anti-pigeon netting on the roof of a building shortly after 9.30am yesterday morning.
A specialist rescue team from Camels Head set about helping the bird.
They used specialist animal rescue equipment, and requested the mobilisation of the aerial platform to help get to the bird.
Ben Wheedon, from Camels Head, said: "The netting was wrapped around its wing and leg. We used animal rescue equipment to free the bird, and put it in an animal rescue bag to be handed over to the SPCA. It has been taken to the vet for a check-up and we think it's going to be OK.
"We have a lot of protective equipment to help protect the animals."
The bird was rescued using specialist equipment and was passed into the care of the SPCA.
ONE lane was blocked as emergency services dealt with an incident.
About Pigeon Patrol:
Pigeon Patrol Products & Services is the leading manufacturer and distributor of bird deterrent (control) products in Canada. Pigeon Patrol products have solved pest bird problems in industrial, commercial, and residential settings since 2000, by using safe and humane bird deterrents with only bird and animal friendly solutions. At Pigeon Patrol, we manufacture and offer a variety of bird deterrents, ranging from Ultra-flex Bird Spikes with UV protection, Bird Netting, 4-S Gel and the best Ultrasonic and audible sound devices on the market today.
Voted Best Canadian wholesaler for Bird Deterrent products four years in a row.
Contact Info: 1- 877– 4– NO-BIRD (www.pigeonpatrol.ca)