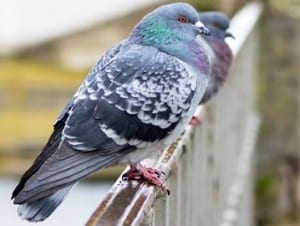 A PIGEON was killed by a man in Exeter after it pecked at scraps from his hotdog, a court heard.
Exeter Magistrates' Court heard the incident took place near Castle Street in the city on St Valentine's Day last month, when a member of the public witnessed Jeremy Wayle, 48, of Totnes, crush the bird under his foot outside the cafe.
Appearing before magistrates Wayle pleaded guilty to killing a non schedule one wild bird, and through his solicitor said he "accepted it should not have happened and his behaviour was wholly unacceptable."
The court heard Wayle had been having a nice day until he started eating a hot dog and a flock of pigeons descended near him.
Irritated by the avian invasion, he trapped one of the birds under his foot and crushed it to death, causing "shock and distress" to a female shopper.
The woman confronted him telling Wayle he was "nasty," the court heard.
Wayle told the woman that pigeons were vermin.
Police were called and Wayle, who is unemployed, was searched and found to have a small amount of cannabis on him.
In mitigation, the court heard he suffered a head injury 30 years ago and had suffered from post-traumatic stress disorder. Magistrates heard he did not want to upset anyone and was very apologetic for his behaviour.
Wayle, was given a conditional discharge for 12 months, ordered to pay £15 to the court and had cannabis was forfeited and ordered to be destroyed.
About Pigeon Patrol:
Pigeon Patrol Products & Services is the leading manufacturer and distributor of bird deterrent (control) products in Canada. Pigeon Patrol products have solved pest bird problems in industrial, commercial, and residential settings since 2000, by using safe and humane bird deterrents with only bird and animal friendly solutions. At Pigeon Patrol, we manufacture and offer a variety of bird deterrents, ranging from Ultra-flex Bird Spikes with UV protection, Bird Netting, 4-S Gel and the best Ultrasonic and audible sound devices on the market today.
Voted Best Canadian wholesaler for Bird Deterrent products four years in a row.
Contact Info: 1- 877– 4– NO-BIRD (www.pigeonpatrol.ca)