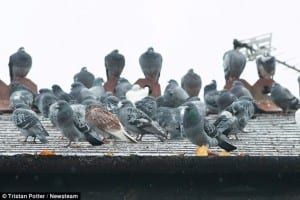 An exclusive street in Kensington plagued by pigeon droppings has got into trouble with its local council after residents took matters into their own hands and erected a 60ft 'poo-catcher' net.
The neighbours, who live in properties which fetch up to £3 million, have already spent more than £10,000 battling Kensington and Chelsea Council after they demanded that they rip down the protective netting put up to prevent their windows and doors being blighted by birds.
The feathery pests moved into De Vere Gardens when two hotels were demolished in 2010 to make way for the £600 million One Kensington Gardens development opposite Kensington Palace.
Dr Daniel Sister, a leading anti-ageing specialist, told the Evening Standard: "Until the temporary pigeon netting was installed in 2013, our rear patio was fouled daily by pigeons roosting on the ledges, window sills and eaves.
"Since the netting was installed, there has been genuine and obvious improvement.
"I had the experience of the health risks associated with pigeon droppings, having been diagnosed and treated successfully in Paris with psittacosis.
"This can be a life-threatening infection and I do not want to be exposed to this risk nor my wife nor pet dog nor anyone in the building."
Nearby etablishment The Baglioni Hotel hooked up a net over its patio to protect its clientele, who have included Lindsay Lohan, George Clooney, Mariah Carey, Beyoncé and Jay-Z.
But when one neighbour complained the net cage strung up at the rear of two six-storey Victorian terraces in the side street created a "sense of enclosure", the town hall stepped in and ordered its removal.
Officers said the net – which stopped the pigeons fouling windows and patios – needed planning permission and launched enforcement action.
Proceedings are now underway and if the planning application is not approved, residents will have until March 15 to remove the netting.
About Pigeon Patrol:
Pigeon Patrol Products & Services is the leading manufacturer and distributor of bird deterrent (control) products in Canada. Pigeon Patrol products have solved pest bird problems in industrial, commercial, and residential settings since 2000, by using safe and humane bird deterrents with only bird and animal friendly solutions. At Pigeon Patrol, we manufacture and offer a variety of bird deterrents, ranging from Ultra-flex Bird Spikes with UV protection, Bird Netting, 4-S Gel and the best Ultrasonic and audible sound devices on the market today.
Voted Best Canadian wholesaler for Bird Deterrent products four years in a row.
Contact Info: 1- 877– 4– NO-BIRD (www.pigeonpatrol.ca)