Heavily armed shock troops took to the streets of Downtown, police officers barked at pedestrians to take cover and Pittsburgh's mayor donned a bulletproof vest yesterday afternoon as reports of a sniper in the heart of the business district triggered a massive police response and paralyzed both commerce and traffic.
Several nervous callers to 911 had described a man with a bushy beard carrying a rifle with a scope and pointing it out the windows of a building in the 500 block of Penn Avenue.
Police closed off streets. Inbound lanes of the Fort Pitt Bridge were closed to traffic, as were ramps leading to Downtown from the Fort Duquesne Bridge. A Port Authority Police officer armed with an AR-15 rifle stood guard at Penn Avenue and Stanwix Street.
It was a surreal incident, a surreal response and, fittingly, a surreal ending.
There was no sniper after all, only a maintenance man at the Pittsburgh Allegheny County Thermal plant shooting at pigeons inside the 10-story facility with a pellet rifle.
Police declined to identify the man. But PACT president Robert Fazio said he was Richard Wills, an "excellent" longtime employee who has worked single-handedly for several years to eradicate the plant's pigeon problem after poison and plastic owls proved unsuccessful. PACT provides steam heat for buildings throughout Downtown.
When police discovered that tidbit of information, they also learned another. Despite the rapid response and overwhelming police presence, the worker, a Fayette County resident, had quietly left, possibly oblivious to the uproar he had caused.
Mr. Wills could not be reached for comment last night.
Police spokeswoman Tammy Ewin said it was unlikely the man would be arrested. The only charge likely to stem from the incident could be a citation if it were determined he fired the gun illegally inside the city limits, Ms. Ewin said.
Chief Dominic J. Costa, who was Downtown along with Mayor Bob O'Connor and other top local officials, said merely carrying a pellet rifle Downtown might not be against the law. However, he added, it flew in the face of common sense.
"Look at the alarm he caused. Look at all the inconvenience he caused," Chief Costa said.
Until police determined roughly two hours into the incident that there was no imminent danger, they took no chances.
The event began around 1:05 p.m., apparently after a witness saw a man with a rifle inside a building on Penn Avenue. Then a police dispatcher broadcast information about a gunman with a rifle and a scope on the fourth floor of a building at Penn and Cecil Way, an alley running from Penn to Fort Duquesne Boulevard. Another dispatch had the man wearing some type of light strapped to his shoulder.
Officers shut Penn Avenue, Fort Duquesne Boulevard and Liberty Avenue from Stanwix to Sixth streets and posted officers at the intersections.
"Folks, you need to either move to the right or the left," bellowed one motorcycle officer to a group of pedestrians on Stanwix Street. "This guy has a high-powered rifle."
About 100 Highmark Life and Casualty employees were told to keep clear of the windows of their floor in 515 Penn Ave., which faced the building at 525 Penn Ave., where the incident was taking place.
They remained in the building for two hours, tracking the unfolding events on the Internet, television and phone calls from the outside, said staffer Carol Hunter.
The shutdown paralyzed some businesses both inside and outside the taped-off police perimeter. One exception was the Sixth Penn bistro, where the five-person kitchen crew remained busy hustling out orders of meatloaf, crabcake and Reuben sandwiches all afternoon.
"Customers were enjoying hanging out," said fry cook Chris Eggleton, 32. "People took it as an extended lunch at the expense of a sniper."
At the Fifth Avenue Beanery coffee shop, customers presumably were "just sitting at the tables or walking back and forth, talking on their cell phones," said Manager Mary Ann Keating. "People were more frustrated about what was going on. They wanted out and they weren't allowed out."
For a time, police had trouble locating the right building. Adding to the confusion were later dispatches that the suspect might be walking away carrying a duffel bag or a backpack.
Eventually, police focused on the PACT complex, two buildings along Fort Duquesne Boulevard and Cecil Way that share a common wall.
As surveillance continued, police swarmed Downtown in droves. Unmarked cars pulled up, one after the other, as members of the Special Emergency Response Team exited, donned body armor and unloaded heavy weapons. Snipers took up positions.
A state police helicopter whirred overhead. The bomb squad arrived. Allegheny County Sheriff Peter R. DeFazio and Chief Executive Dan Onorato showed up.
And Mr. O'Connor, whose wife, Judy, was at work in the hot zone, ran across Penn Avenue shielded by his bodyguard, Officer Joseph Ryczaj, to check on her.
Authorities established a command post in the lobby of Fifth Avenue Place, where a police robot rolled over the lobby floor.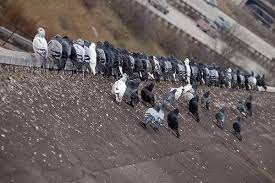 "It's kind of crazy," said Tara Bingaman, 28, of North Huntingdon, a student at Point Park University who wandered over to Stanwix Street to witness the hubbub.
Around 2:20 p.m., SERT officers marched out of Fifth Avenue Place. Mr. O'Connor, whose white hair stood in contrast to the officers' black outfits, stood at the end of their line. The officers made their way around the corner onto Penn and down Cecil Way.
Eventually, they entered the PACT building shortly before 3 p.m. and found a foreman who told them the description of the man with a gun matched that of an employee who shoots pigeons with a pellet rifle and a scope.
Mr. Fazio said Mr. Wills used his own pellet rifle — which he stores at the plant — to clear out pigeons who roost in the building's rafters and rain droppings down on the machinery.
"We do have an internal building pigeon problem. The pigeons come into our building and from time to time one of our employees has used a pellet rifle to get rid of pigeons inside our building only," Mr. Fazio said.
Patrons at Caffe Amante, a restaurant on the second floor of Fifth Avenue Place, had been finishing lunches or heading back to work when police poured into the area and ordered the building shut down. So they headed back to the restaurant, which overlooks Penn Avenue and Stanwix Street, to cluster around the television and watch news reports about the situation unfolding on the streets around them.
"It was confusing and more than a little aggravating," manager Debbie Doucette said. "Now that it turns out to be a pellet gun, I'm really aggravated. We were all held up for two hours for pigeons and pellet guns."
Pigeon Patrol Products & Services is the leading manufacturer and distributor of bird deterrent (control) products in Canada. Pigeon Patrol products have solved pest bird problems in industrial, commercial, and residential settings since 2000, by using safe and humane bird deterrents with only bird and animal friendly solutions. At Pigeon Patrol, we manufacture and offer a variety of bird deterrents, ranging from Ultra-flex Bird Spikes with UV protection, Bird Netting, 4-S Bird Gel and the best Ultrasonic and audible sound devices on the market today.
Voted Best Canadian wholesaler for Bird Deterrent products ten years in a row.
Contact us at 1- 877– 4– NO-BIRD, (604) 585-9279 or visit our website at www.pigeonpatrol.ca
Pigeon/Pigeon Patrol / Pigeons Roosting / Vancouver Pigeon Control /Bird Spikes / Bird Control / Bird Deterrent / Pigeon Deterrent?  Surrey Pigeon Control / Pest /Seagull deterrent / Vancouver Pigeon Blog / Birds Inside Home / Pigeons in the cities / Ice Pigeons/ What to do about pigeons/ sparrows , Damage by Sparrows, How To Keep Raccoons Away,  Why Are Raccoons Considered Pests/ De-fence / Pigeon Nesting/ Bird Droppings / Pigeon Dropping/ woodpecker control/ Professional Bird Control Company/ Keep The Birds Away/ Birds/rats/ seagull/pigeon/woodpecker/ dove/sparrow/pidgeon control/pidgeon problem/ pidgeon control/flying rats/ pigeon Problems/ bird netting/bird gel/bird spray/bird nails/ bird guard