Do pigeons do any harm? – pigeons dropping are not only unsightly but are acidic and in large quantities can cause damage to buildings and machinery. Nesting material, droppings and feathers can also block gutters and air vents.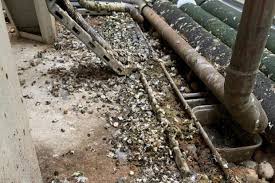 Public health – pigeons can carry diseases, some of which may do harm to people, for example if droppings contaminate food stuffs. As such their presence cannot be tolerated in and around food premises. They also carry mites which can cause skin disease and dust from their feathers can cause respiratory problems in confined spaces.
Accidents – pigeon droppings and food left down for pigeons can cause walkways and fire escapes on buildings to become slippery and dangerous. Startled flocks can take flight suddenly, causing hazards to motorists and pedestrians.
Other birds – large numbers of pigeons can force smaller birds away from feeding areas. The pigeons also spread disease to other birds, reducing their numbers.
At Pigeon Patrol, we manufacture and offer a variety of bird deterrents, ranging from Ultra-flex Bird Spikes with UV protection, Bird Netting, 4-S Gel and the best Ultrasonic and audible sound devices on the market today.
Contact us at 1- 877– 4– NO-BIRD, (604) 585-9279 or visit our website at www.pigeonpatrol.ca
Bird Gone, Pigeon Gone, Seagull Gone, Pigeon issue, pigeon spikes, 1-877-4NO-BIRD, 4-S Gel, Bird Control, Pigeon Control, bird repellent, Bird Spikes, sonic bird repellent, stainless steel bird spikes, bird spikes Vancouver, Ultra Sonic Bird Control, Bird Netting, Plastic Bird Spikes, Canada bird spike deterrents, Pigeon Pests, B Gone Pigeon, Pigeon Patrol, pest controller, pest control operator, pest control technician, Pigeon Control Products, humane pigeon spikes, pigeon deterrents, pigeon traps, Pigeon repellents, Sound & Laser Deterrents, wildlife control, raccoon, skunk, squirrel deterrent, De-Fence Spikes, Dragons Den, Canada bird spikes, Canada pigeon, pigeon control, pigeon patrol, pigeon. Kill pigeons, crow, starling