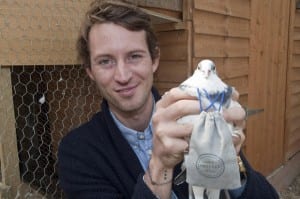 Alderman Bill Wilson said he had received complaints from people concerned about the pigeons congregating in food areas and on tables.
The main problem spots were in the mall, Stewart St and southern Rooke Street, he said.
Alderman Wilson will table a notice of motion at Monday night's council meeting calling for a report in relation to the health concerns related to pigeons in the CBD and whether measures are needed to eradicate them.
Alderman Wilson said that after seagulls became an issue at the MCG, artificial hawks on grandstands were used to deter the avian invaders from the ground.
"There are various methods to look at to deter pigeons if they are a problem in the city," Alderman Wilson said.
"You can also put spikes around a building or have sloped surfaces so it doesn't give the birds a place to sit."
Burnie Chamber of Commerce and Industry vice-president Philip McCulloch confirmed yesterday that some BCCI members had raised feral pigeons as a problem at various times.
Mr McCulloch said the matter was then passed on to the Burnie City Council.
Last year Fosters Music Centre in Burnie addressed a problem with pigeons by installing metal spikes on the roof of the Cattley Street business to stop the birds from damaging newly painted signage.
Neighbouring legal firm McLean, McKenzie and Topfer had written to the Burnie City Council expressing its concern about large numbers of pigeons living in the CBD.
Burnie City Council general manager Andrew Wardlaw said at the time that the council would be responsible for cleaning up areas where pigeons were roosting if on council property or areas that the public utilised such as paths.
According to a fact sheet from South Australia Health, feral pigeons can become public health pests and tend to accumulate wherever there is food and shelter.
The potential health risks included transmission of diseases such as histoplasmosis, cryptococcosis, and psittacosis (ornithosis), and attraction of ticks, mites, cockroaches and rats.
About Pigeon Patrol:
Pigeon Patrol Products & Services is the leading manufacturer and distributor of bird deterrent (control) products in Canada. Pigeon Patrol products have solved pest bird problems in industrial, commercial, and residential settings since 2000, by using safe and humane bird deterrents with only bird and animal friendly solutions. At Pigeon Patrol, we manufacture and offer a variety of bird deterrents, ranging from Ultra-flex Bird Spikes with UV protection, Bird Netting, 4-S Gel and the best Ultrasonic and audible sound devices on the market today.
Voted Best Canadian wholesaler for Bird Deterrent products four years in a row.
Contact Info: 1- 877– 4– NO-BIRD (www.pigeonpatrol.ca)