When travelling in groups, animals frequently have to make decisions on the direction of travel. These decisions can be based on consensus, when all individuals take part in the decision (i.e. democratic decision; social information), or leadership, when one member or a minority of members make the decision (i.e. despotic decision; personal information). Here we investigated whether decision-making on the navigation of small flocks is based on democratic or despotic decisions. Using individual and flock releases as the experimental approach, we compared the homing performances of homing pigeons that fly singly and in groups of three. Our findings show that although small groups were either governed (i.e. when individuals in the flock had age differences) or not (i.e. when individuals in the flock had the same age) by leaders, with concern to decision-making they were all ruled by democratic decisions. Moreover, the individual homing performances were not associated with leadership. Because true leaders did not assume right away the front position in the flock, we suggest that as in human groups, starting from a central position is more effective as it allows leaders to not only transmit their own information but also to average the tendencies of the other group members. Together, the results highlight the importance of democratic decisions in group decision-making.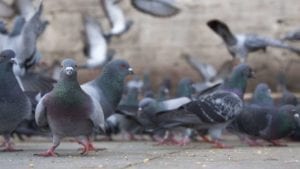 Pigeon Patrol Products & Services is the leading manufacturer and distributor or bird deterrent (control) products in Canada. Pigeon Patrol products have solved pest bird problems in industrial, commercial, and residential settings since 2000, by using safe and humane bird 
deterrents with only bird and animal friendly solutions. At Pigeon Patrol, we manufacture and offer a variety of bird deterrents, ranging from Ultra-flex Bird Spikes with UV protection, Bird Netting, 4-S Bird Gel and the best Ultrasonic and audible sound devices on the market today.
Voted Best Canadian wholesaler for Bird Deterrent products ten years in a row. 

Contact us at 1 877-4-NO-BIRD,(604) 585-9279 or visit our website at www.pigeonpatrol.ca

Pigeon/Pigeon Patrol / Pigeons Roosing / Vancouver Pigeon Control / Bird Spikes / Bird Control / Bird Deterrent / PIgeon Deterrent / Surrey Pigeon Control / Pest / Seagull deterrent / Vancouver Pigeon Blog / Birds Inside Home / Pigeons in the cities / Ice Pigeons / What to do about pigeons / sparrows, Damage by Sparrows, How to Keep Raccoons Away, Why Are Raccoons Considered Pests / De-fence / Pigeon Nesting / Bird Droppings / Pigeon Dropping / woodpecker control / Professional Bird Control Company / Keep The Birds Away / Birds/rats/seagull/pigeon/woodpecker/dove/sparrow/pidgeon control/pidgeon problem/pidgeon control/flying rats/pigeon problems/ bird netting/bird gel/bird spray/bird nails/bird guard