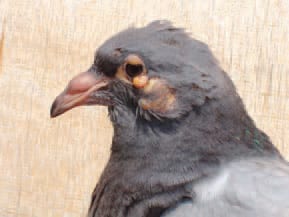 The skeletal remains of pigeons seen hanging above a parade of shops are a "disgusting eyesore" which is causing children distress, residents say.
Netting installed to deter birds above shops in The Broadway, Woodford Green, has resulted in pigeons becoming trapped and dying from injury or starvation.
At least two decomposed pigeons can be seen caught up in the netting, and previously birds have been seen dangling just above the shop front signs, shoppers have said.
The netting is the responsibility of several leaseholders and maintenance contractors including Dendale Construction Ltd, based in Highams Park, and Ilford-based letting agency B Bailey & Co.
Louise Woodcock of charity Animal SOS in Snakes Lane East blames poor maintenance.
The Knighton Drive resident, said: "Environmental Health has been down on several occasions.
"Sadly, by the time the RSPCA arrives, the bird is dead.
"Our beautiful Broadway is becoming a dirty, degrading area ruined by the sight of decomposing pigeons above our cafes and eateries.
"I walked past recently with my niece who looked up and started screaming. It was the same dead bird that had been hanging down since before Christmas."
Resident June Brook of King's Avenue in Woodford Green, said it was concerning to see such a "disgusting eyesore" in a conservation area.
"The dead birds are just hanging upside down for all to e child walking past with her mother could not stop screaming. It is ruining the aesthetic of the buildings."
London Wildlife Protection officer and founder of Waltham Forest Animal Protection, Rachel Barrat, is calling for immediate action from the property owners and intervention from Redbridge Council.
"Netting used to deter birds often traps them and causes cruel and lingering deaths.
"We are asking the owners to install it correctly and maintain it regularly, or remove it altogether and use more humane deterrents."
Vince Cooper of Dendale Construction said the netting above She She She, a clothing store, was necessary.
"It was installed professionally by an independant netting company a year ago to protect the public and the fabric of the building.
"Before, pigeons were ruining our building, blocking out drains with nests and causing floods.
"Unlike next door (above Waite & Sons newsagents) our is maintained regularly and no birds have become trapped."
About Pigeon Patrol:
Pigeon Patrol Products & Services is the leading manufacturer and distributor of bird deterrent (control) products in Canada. Pigeon Patrol products have solved pest bird problems in industrial, commercial, and residential settings since 2000, by using safe and humane bird deterrents with only bird and animal friendly solutions. At Pigeon Patrol, we manufacture and offer a variety of bird deterrents, ranging from Ultra-flex Bird Spikes with UV protection, Bird Netting, 4-S Gel and the best Ultrasonic and audible sound devices on the market today.
Voted Best Canadian wholesaler for Bird Deterrent products four years in a row.
Contact Info: 1- 877– 4– NO-BIRD (www.pigeonpatrol.ca)