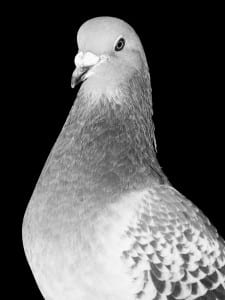 A campaign to rid a town centre of its pigeon problem has launched to help improve the area for visitors and businesses.
People are being urged not to feed the birds in and around Harrow Town centre as part of a project launched today.
The Harrow Town Centre Business Improvement District (BID) launched the campaign as part of its ongoing work to increase footfall to St Anns and Station Roads.
Louise Baxter operations manager for the Harrow BID said: "The day has been all about education of the public, explaining what we are trying to do and how we can improve the area.
"One of the biggest issues for businesses in the town centre, and the people who visit it, is the pigeons.
"A lot of the feedback we get tells us that people are put off from visiting because of the flocks of birds flying around and making a mess.
"We really want to make Harrow a vibrant place and a destination for people. And sorting this problem is a big part of our plan."
Also at the launch was James Bradbury from BH Environment pest control with his Harris Hawk Max, demonstrating how his company goes about removing pigeons from town areas.
Jay Patel, who runs the Chocolate Room and is on the board of Harrow BID said: "This is a huge issue for all the businesses here.
"To me they are rats with wings and they make the area look scruffy which means people don't want to come to the town centre.
"We want everyone to work together to make Harrow a more inviting place."
Fellow trader Deivid Silva, of the Silver Rivet clothes shop said: "Some mornings we have had to clean the front step to our shop because of the bird mess.
"I understand if you want to feed birds in a park, but the town centre is not an appropriate place. They spread disease and are a general health hazard."
The Harrow BID campaign is being supported by Harrow Borough Council which has also warned people that putting food on the ground constitutes littering and they could face an on the sport fine of £75.
About Pigeon Patrol:
Pigeon Patrol Products & Services is the leading manufacturer and distributor of bird deterrent (control) products in Canada. Pigeon Patrol products have solved pest bird problems in industrial, commercial, and residential settings since 2000, by using safe and humane bird deterrents with only bird and animal friendly solutions. At Pigeon Patrol, we manufacture and offer a variety of bird deterrents, ranging from Ultra-flex Bird Spikes with UV protection, Bird Netting, 4-S Gel and the best Ultrasonic and audible sound devices on the market today.
Voted Best Canadian wholesaler for Bird Deterrent products four years in a row.
Contact Info: 1- 877– 4– NO-BIRD (www.pigeonpatrol.ca)