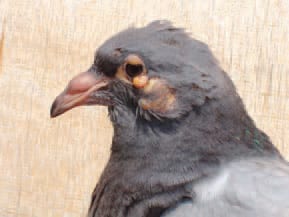 A British grandfather died from a freak allergy to pigeons after he let a pal keep them in his back yard.
Peter Willoughby, who didn't even like the birds, selflessly allowed his friend to build a pigeon loft in his Hampshire yard some 25 years ago, reports the Southern Daily Echo.
But the dad-of-three didn't realize that the favor would eventually end up killing him.
Willoughby's health deteriorated over the years, and it then emerged that he was suffering from scarring on the lungs.
The condition, commonly known in the bird racing community as "pigeon fancier's lungs," came from an allergy due to his regular contact with the creatures.
Willoughby suffered from a condition known as 'pigeon fancier's lungs,' as his allergy to the birds caused scarring on the lungs.
An inquest into his death heard that the 72-year-old struggled to breathe in his later years, and that he died in Southampton General Hospital in 2014.
Coroner Grahame Short recorded his death as coming from end-stage lung disease and a form of pneumonia triggered by the allergy to pigeons.
"For a number of years Mr Willoughby was working in an environment where he was exposed and in his home he was also exposed to feathers and excreta when he was close to the pigeon loft in his back garden," Short ruled.
"I think it was a combination of those two factors," he added.
About Pigeon Patrol:
Pigeon Patrol Products & Services is the leading manufacturer and distributor of bird deterrent (control) products in Canada. Pigeon Patrol products have solved pest bird problems in industrial, commercial, and residential settings since 2000, by using safe and humane bird deterrents with only bird and animal friendly solutions. At Pigeon Patrol, we manufacture and offer a variety of bird deterrents, ranging from Ultra-flex Bird Spikes with UV protection, Bird Netting, 4-S Gel and the best Ultrasonic and audible sound devices on the market today.
Voted Best Canadian wholesaler for Bird Deterrent products four years in a row.
Contact Info: 1- 877– 4– NO-BIRD (www.pigeonpatrol.ca)