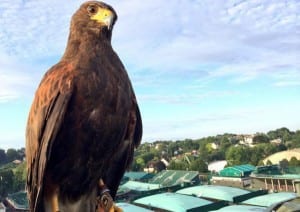 BIRDS of prey are being bought in to tackle a pigeon problem which is keeping a visitor attraction's most popular residents indoors.
The Deep aquarium in Hull has commissioned a local falconer to scare off pigeons, which have been roosting and making a mess on the attraction.
The attraction's gentoo penguins have not been allowed out of their new enclosure onto an outdoor balcony because of fears they could pick up avian diseases from the pigeon droppings.
Chief executive Colin Brown said: "The penguins have this area outside where they can go, a little balcony, but the pigeons are nesting above them and they carry a lot of avian diseases, so we don't feel we can let out the penguins in case they catch something from the pigeon droppings. "Equally we don't want to kill the pigeons."
He said they had "pretty dramatic reaction" the first time they tried flying a bird of prey with seagulls which also hang round the building going "beserk" – although the pigeons stood their ground.
He expects the problem to take some months to solve with the help of a five-year-old peregrine falcon and an 18-month-old Harris hawk.
He said: "A number of major events including Wimbledon have successfully scared the pigeons away using this method, so we thought it was worth a try.
"When the falcon and hawk are flown in a specific routine, it alters the pigeons' roosting and nesting patterns."
About Pigeon Patrol:
Pigeon Patrol Products & Services is the leading manufacturer and distributor of bird deterrent (control) products in Canada. Pigeon Patrol products have solved pest bird problems in industrial, commercial, and residential settings since 2000, by using safe and humane bird deterrents with only bird and animal friendly solutions. At Pigeon Patrol, we manufacture and offer a variety of bird deterrents, ranging from Ultra-flex Bird Spikes with UV protection, Bird Netting, 4-S Gel and the best Ultrasonic and audible sound devices on the market today.
Voted Best Canadian wholesaler for Bird Deterrent products four years in a row.
Contact Info: 1- 877– 4– NO-BIRD (www.pigeonpatrol.ca)